From Big Apple to the Arlberg
Interview with Max Natmessnig, chef de cuisine at Rote Wand Chef's Table
The blueberry jam is already done and the preserved plums are waiting to be transformed into fine desserts. Max Natmessnig has been the new chef de cuisine at Chef's Table in Joschi Walch's Schualhus since June 2017 – now he is preparing for his first winter season on the Arlberg. 'It's amazing because we make so many things ourselves up here. Using the regional vo:dô products we make delicacies like pork paté, raw milk butter, and sourdough bread – that really is unique', the chef who is originally from Lower Austria, clearly is enthusiastic about his new workplace.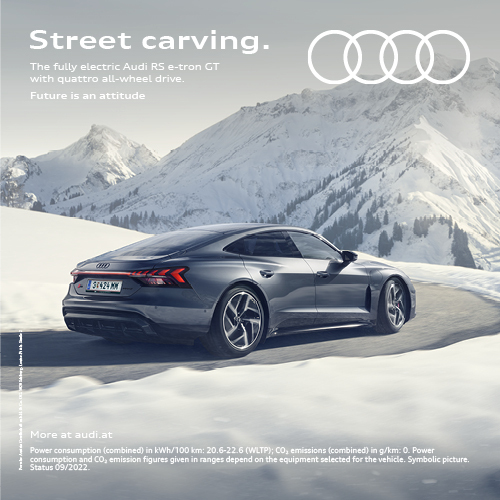 After his A-levels Natmessnig did an internship at the legendary Auberge de l'Ill in Alsace and then decided to become a chef. What followed were stops in top restaurants all over the world and now the 29-year-old has arrived in Zug, in the high Alps, where he gets to prove his skills as a head chef for the first time. In his interview with La Loupe Max Natmessnig talks about his first meeting with Joschi Walch in New York, about his cooking style and praises the Arlberg's many qualities.
"I knew right away that the Schualhus' Chef's Table is something very special."
L.L./ Mr Natmessnig, you met the restaurant and hotel owner from Lech, Joschi Walch, at the Chef's Table at Brooklyn Fare in New York, where you were working as chef de partie at the time. What was your first impression of the host at Alpen Sport Resort Rote Wand?
M.N./ He seemed like a genuinely nice person and he talked to me very openly, because up until then I had not heard about the Chef's Table at Schualhus. So, my first impression was really good.
L.L./ It was the same Joschi Walch who convinced you to become chef de cuisine at Schualhus in Zug/Lech. Were you all for the idea right away or did it take some coaxing?
M.N./ I knew right away that the Chef's Table at Schualhus is something very special and that you don't get a chance like that often in your life. Which is why I took it immediately. At the time I had been in New York for more than four years already, so I was ready for the next step. At first I had the idea of setting up something of my own in New York but that was not made easy for me. Consequently, Joschi Walch's offer came just at the right time.
"It had always been my goal to work with top chefs in small restaurants, that way I was able to look over their shoulders and take a lot away for myself."
L.L./ You learned from the best and you were able to gather know-how with chefs like Sergio Herman and César Ramirez. What kind of influence did these personalities have on your career?
M.N./ They influenced me in terms of discipline and dealing with food. They taught me that it's imperative to treat the products with the greatest respect. And thanks to them I was able to refine my technique, too. It was important to me to work with these personalities in order to get to know their vision of cooking. It had always been my goal to work with great chefs in small restaurants, that way I was always able to look over their shoulders and learn a lot from them.
L.L./ Your style of cooking is described as fresh, light, and clean. What does that mean, exactly?
M.N./ We focus on one product in particular, which is then prepared as authentically as possible. I don't want to confuse the guest, I want to be straight forward. I love anything pure, which is why in the end the dish must be perfect. Generally, I think one can never stand still, it's important to keep trying new things and keep developing. Cooking is a continuous process.
"We focus on the main product and prepare it authentically."
L.L./ You last worked at for the restaurant Chef's Table at Brooklyn Fare, which is decorated with three Michelin-stars. And now at the Rote Wand Chef's Table in Schualhus you and other chefs cook for 16 gourmets in a private setting. Does it make you nervous that the guests can peek into your pots?
M.N./ Brooklyn Fare was a bit larger. Cooking directly with the guests does not make me nervous any more, maybe it did in the beginning in New York, but by now it's become business.
M.N./ The Chef's Table has advantages, of course: I am in direct contact with the guest, the style is very modern and the chefs receive immediate feedback. Seeing as the guest can observe the entire process and is served the dish while the plate is still hot they get a better grasp of the level of quality. After all there are only three footsteps between kitchen and epicure.
L.L./ The experience at the Chef's Table is intense. What do you pay particular attention to?
M.N./ What's most important to me is that the guest is comfortable, that they can identify with the food and that the dishes taste really good.
"I am convinced that it is more important to find one's own style rather than follow trends."
L.L./ No matter if it's Käsknöpfle (a type of pasta-bake with cheese) or fondue – the region around Lech Zürs offers numerous classics. How hard is it to combine traditional fare with new influences?
M.N./ It's a trend that other chefs follow, we at Chef's Table don't do that. We take the product and make something completely new with it. I don't interpret classics, that's not my vision. We focus on regional and Austrian products.
L.L./ High-quality products form the basis of every good dish. What aspects are particularly important to you?
M.N./ The taste is what's most important – and how the product came to taste the way it does, so who's behind it. Joschi Walch has great contacts with the best producers and it really is a privilege to be able to work with them.
"Our focus is on regional and Austrian products."
L.L./ What do you think characterises 21st century gourmet cuisine?
M.N./ That's a difficult question, seeing as I can't see the future and there really are no trends yet. Regionality and molecular cuisine – those have been the strongest trends so far, but I don't know what the next big step will be. However, I am convinced that it's more important to find one's own style rather than follow trends. At only 29 I'm still too young to have my own style, I think that's something you develop after long years of experience.
L.L./ You have been chef de cuisine at the Schualhus' Chef's Table since June and have thus also transferred the centre of your life to Lech Zürs. What do you like about the destination on the Arlberg?
M.N./ The nature is wonderful, you can go hiking or fishing – and the air is so fresh and clean. You're in the middle of the mountains, it's very cosy and a complete contrast to the city where I enjoyed going out to eat on a night off. Here I simply cook at home with my girlfriend. In between seasons I am drawn back to the big city though.
Max Natmessnig's Wordrap
Following in the footsteps of award-winning chef Manuel Grabner. Pressure or motivation? Motivation.
My favourite food is: Italian.
Quick cuisine is…great. So long as it's not fast food.
A speciality from the Arlberg one simply must try: Fondue.
A good menu needs at least …3… courses.
This is where I find inspiration for my menus: In the nature.
Max Natmessnig
Max Natmessnig, originally from Lower Austria, gathered first cooking experiences at Steirereck in Vienna, he was then apprentice to the Dutch top chef Sergio Herman and then he worked for Daniel Humm, currently the world's best chef, in New York's Nomad. During the last three years he was the right hand of three-star chef César Ramirez at Brooklyn Fare. Since June 2017 he's been showing off his skills as head chef at the Rote Wand Chef's Table in Zug.
Rote Wand Chef's Table
Zug 5, 6764 Lech am Arlberg
+43 5583 / 34350
gasthof@rotewand.com
www.rotewand.com

---
Share Article