"Garmisch-Partenkirchen has been good to us!"
Interview with Dr. Günther Bail, founder and head dentist at the dental clinic Dentinic
The large panoramic window lets the gaze wander from snow-covered peaks to the lush green of forests – the view makes it easy to forget that one is being treated here at Dentinic. The professional team surrounding the head dentist Dr. Günther Bail does extraordinary work and is always eager to make sure the patients from all over the world feel comfortable and well taken care of. In his talk with La Loupe he spoke about the advantages of Dentinic and the reasons why a treatment here should be connected with a holiday in the Zugspitz region.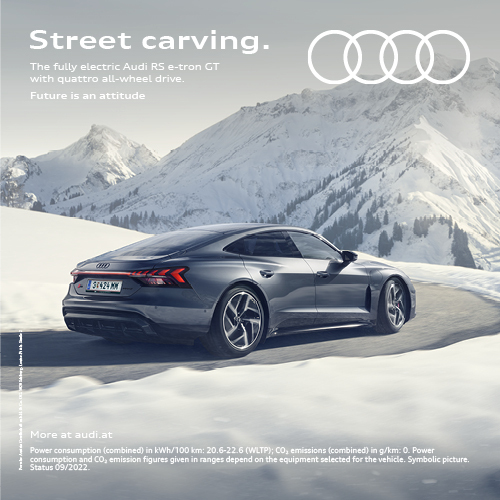 "We have very high standards of quality."
L.L./ Dr. Bail, in 1994 you founded the dental clinic Dentinic Praxis & Klinik der Zahnmedizin & Ästhetik in Garmisch-Partenkirchen. Today it is still located in the Werdenfels region – what advantages does this bring the patients that are treated here?
G.B./ Since Dentinic is both practice and clinic the patients have the advantage of being able to stay overnight after a surgery. We treat both private patients and those with statutory health insurance at a very high level of quality. Consequently, we are specialised in treating phobic patients and doing full restorations. It is important to me to make sure someone's own teeth are preserved for as long as possible. Because as soon as a tooth is removed, jawbone loss sets in. In this case implants that grow into the bone can be helpful because they are very durable. Implants in strategically smart positions can help support one's own teeth if they've become unstable. Bone loss can be counteracted by supporting functionally correct stress on teeth and implants.
G.B./ Many people are unaware of the fact that the teeth "for life" are the molars – they are for chewing and crunching. The front teeth are only used for biting things off and for nice looks. If someone needs a crown, for example, we here at Dentinic can have it made by our own professional dental technicians who work in the practice's own laboratories and can thus be talked to directly during the patient's consultation.
G.B./ In general, we recommend all patients with statutory health care to get supplementary insurance, the statutory health insurances cannot cover all the services. High-quality dentures, e.g. made from porcelain, are expensive, particularly when it comes to the looks of fixed dentures. Seeing as we live longer and longer, fixed dentures are important once one reaches old age. And we often see early on which problems could occur for patients in the coming years.
"The patient has the advantage of getting everything from one source."
L.L./ Dentinic was a finalist in the company competition "Erfolgsfaktor Familie" (= success factor family), it is one of the top 100 most innovative companies in Germany's mid-sized sector, and it is certified for environmental and quality management. What's the philosophy behind the success of both practice and clinic?
G.B./ The patient has the advantage of having everything done in one place – from fillings to professional dental cleaning up to a 7-hour surgery with general anaesthesia. At Dentinic we make sure all treatments take place under medical supervision. No matter if its surgery, endodontics (root canals), implantology, and prosthetics, at Dentinic we have it all under one roof. That makes sure the patients have one point of contact for all their dental issues.
"It would be important for parents to make sure their children learn to associate a visit to the dentist's with something positive from the start."
L.L./ Nowadays time has become a precious resource – entrepreneurs and managers often lack time. What opportunities does Dentinic offer in order to facilitate treatments with time constraints?
G.B./ Many procedures require quite a lot of time but some patients cannot take that much time off work. We give patients the opportunity to spend their family holiday in Garmisch-Partenkirchen and connect it with a treatment. The teeth can be restored in the course of two or three intense appointments while the family gets to explore the region's vast recreational opportunities in the meantime – we are happy to organise it for them. We book golf courses and tennis courts, book hotels, get opera tickets for Munich, Salzburg, and Verona. Dentinic practically offers around-the-clock service. Seeing as we make sure all necessary procedures are done in as little time as possible we use only little medication, the patients' circulatory system is exposed to less strain and the patients regain their strength more quickly.
"In the past decades, the alpine and health destinations have developed extremely high medical standards."
L.L./ Many patients shy away from seeing a dentist for many reasons. What are these reasons and how can this fear be counteracted?
G.B./ Well, for one thing the mouth is a private part of the body that is invaded. Aside from that many people have a certain fear of dentists they have had since they were a child. It would thus be important to make sure that parents try and make going to the dentist a positive experience for children.
G.B./ Consultation is extremely important for phobic patients. If a patient comes to us for the first time, I take an hour of time for them. It's important to approach a person without time pressure and give them the feeling that we will take care of their wishes and ideas. During the treatment, our modern multimedia equipment can help distract the patient with their favourite films, music, and video games. Aside from that, when there are particularly sensitive, fearful patients we have an anxiety therapist who we can call in at the patient's request and who will accompany the patient throughout the treatment.
L.L./ What successes make a doctor particularly happy?
G.B./ I am happy when a patient has had a restoration done and years later everything still works just fine and the patient is happy and shines with joie de vivre. People with an open smile simply seem more self-confident. Supporting them in getting there is a great, satisfying feeling! And if a patient was anxious about seeing a dentist before, they will be healed after such a positive experience. Having helped people in this respect and restoring their vitality with functioning, healthy, beautiful teeth gives me and my team a sense of achievement.
"Restorations are our profession, aesthetics are our passion."
L.L./ The large panoramic window offers your patients a unique view of the Werdenfels region's mountains. Why is it that Garmisch-Partenkirchen is the perfect spot for Dentinic Praxis & Klinik?
G.B./ Patients have unique options for their free time here: from climbing, to sailing, to mountain biking, and skiing. After a surgery, three days of rest are important. After that patients can not only do whatever they like, they can also eat whatever they like. We never let anyone walk out of Dentinic without teeth or just with a temporary solution that can't be worn in public or that isn't fully functional. At Dentinic it's not just about function but also about a natural look. Nobody should see at the first glance that a patient has new teeth – yet the positive feeling after a visit with us is clearly palpable on the outside. In case patients are asked why they look so good, I always tell them to answer: "Garmisch-Partenkirchen has been very beneficial!" (laughs).
G.B./ Patients that are treated in Garmisch-Partenkirchen always need to come back for check-ups after a while – and they like coming back to us, also because they have positive memories of the region. And this concept is great for both, Garmisch-Partenkirchen, and the patient who values the German health care system and the level of quality.
G.B./ In the past decades, the alpine and health destinations have developed a high medical standard that has a great international reputation. Consequently, we at Dentinic welcome patients from all over the world, e.g. from Egypt, Moscow, or the USA.
Dr. Günther Bail
Dr. Günther Bail studied dentistry in Erlangen and Berlin, he did his doctorate in 1975 in Marburg. In the same year, he became a contracted dentist in Garmisch-Partenkirchen where he developed innovative concepts. After 20 years of professional experience he opened the Dentinic Privatklinik for dental medicine where he works as head dentist with a focus on implantology. Dentinic Praxis & Klinik is specialised in personalised restorations, it has state-of-the-art technology, high-quality materials, the latest methods, and its own education centre.
---
Share Article