'I know who the killer is!'
Interview with author and cabaret artist Jörg Maurer
The literary prize Agatha-Christie-Krimi-Preis, the MIMI audience award and the Radio-Bremen crime award – the author and cabaret artist Jörg Maurer currently is one of the most sought-after and also one of the funniest authors in the German-speaking world. His crime series starring inspector Hubertus Jennerwein has acquired a kind of cult-status and a broad fanbase – and not just in the author's home at the foot of Zugspitze where the terrible incidents occur. La Loupe spoke to the best-selling author – about Werdenfelser 'Hoba', the cruellest way to murder someone, and his latest book.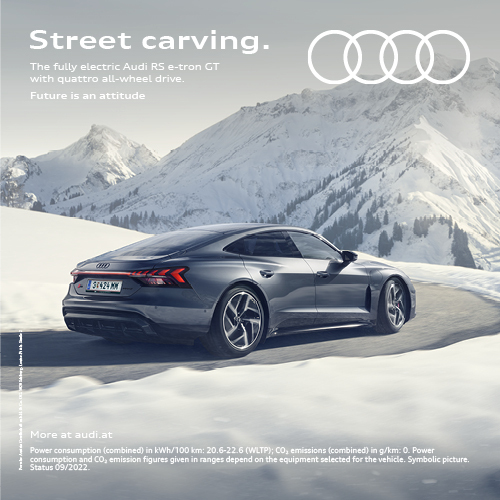 L.L./ Mr Maurer you have been publishing an Inspector Jennerwein crime thriller every year since 2009. And since then the idyllic alpine town has seen it all – lies, cheating and, of course, even murder. What was the reaction of those who live in your hometown at the foot of Zugspitze when they first read your thrillers?
J.M./ Well, what can I say: many of them are already dead, since they've been murdered. So obviously they don't react at all. The others, the liars, cheaters, and murderers – well they'd better not put in their two cents. So, I guess I don't have any reactions at all to fear!
"I always used to enjoy writing, even back when I was a teacher, a musical cabaret artist, and theatre director."
L.L./ You studied German literature in Munich, then you worked as a teacher for five years, later you were a musical cabaret artists, and then you were in charge of your own Schwabinger theatre. How come you started writing? And why write crime thrillers?
J.M./ I always used to enjoy writing, even when I was a teacher, musical cabaret artist, and theatre manager. When you have a passion for literature and when you read a lot you're bound to end up wanting to try out writing yourself. And crime has always been the most fascinating genre for me. The balancing act between high-quality literature and exciting entertainment has always been and still is appealing for me.
L.L./ Your new thriller 'Im Grab schaust du nach oben' (= 'You'll be looking upwards in your grave') Inspector Jennerwein's investigations take place during the G7-summit which did actually take place in Krün, only 17 kilometres from Garmisch-Partenkirchen in 2015. Do you like to let real events that happen in the region inspire you?
J.M./ The summits have taken place dozens of times in different locations all over the world, I think they all follow the same pattern: great commotion, nothing happens. This staging of power and impotence is what I wanted to portray in a satirical fashion. And as far as inspiration is concerned – I usually prefer to come up with things myself.
"The thing with inspiration is a bit difficult – I prefer coming up with things myself, that's more exciting."
L.L./ Do you know how the book is going to end while you're in the process of writing it?
J.M./ In case of a thriller you can't really avoid that. You write it starting at the end because you want it to have an interesting, surprising ending. So, of course, I am never surprised by the outcome – I already know who the killer is.
L.L./ Do tell us a little more here: what can the readers of your new book look forward to?
J.M./ Well, there is one thing I can tell you: the couple of undertakers, Ignaz and Ursel Grasegger, will have a dangerously central role in the new thriller that will be published in spring of 2018.
"I am the cliché."
L.L./ Aside from the popular series of thrillers you also published a non-fiction volume called 'Bayern für die Hostentasche' (= Bavaria in your pocket) where you try to explain the free state's peculiarities and disprove common assumptions. You are originally from Bavaria but you often do book tours all over the entire German-speaking area. Do you feel like you often have to fight clichés in your private life?
J.M./ No. I am the cliché. I wear a single pair of lederhosen day and night, it's been in the family for generations, I like to 'schuhplatteln' (i.e. do a traditional folk dance) every full hour and I yodel whenever I get a chance.
L.L./ 'Bayern für die Hosentasche' also contains a short Bavarian language course where you satirically boil everything down to five rules. What figures or speech and which word do you think should become more popular outside of Bavaria too?
J.M./ The figures or speech and dialect expressions had best stay where they first developed. There's nothing more embarrassing than when someone like me tries to speak in a Saxon dialect. And that applies the other way round as well. And that's the kind of satirical approach I have in the guide to being Bavarian.
"I think figures of speech and dialect expressions had better stay where they first developed."
L.L./ You're a cabaret artist and a writer. Where do these two facets overlap?
J.M./ As a cabaret artist you learn to keep things short and succinct because a scene usually is no longer than a few minutes – and that's something I try to do with my chapters, too. And a cabaret artist must beware of being dead serious. A scene should always begin with a smile and end with a punch line. In between things can get ugly. And that's exactly what a series of thrillers is like, too; at least with me.
L.L./ What do you like more: writing or reading from your books?
J.M./ Well the two things basically are two disciplines where the one teaches you about the other. But, of course, my main enjoyment at the moment is writing.
L.L./ You have a thing for extraordinary cuisine. What dish do you like to impress your loved ones with? And Which dish from your home should one really try?
J.M./ There is an extraordinary dish that's made in the Werdenfels region, it's called 'hoba'. It's a potato dish where you really have to spend a half hour bent over the pan otherwise it won't come out well. I mention the dish in my first novel, 'Föhnlage', and the appendix even has the recipe in it, exactly the way my grandfather taught me.
L.L./ How do you like to spend your free time in Garmisch-Partenkirchen, when you're not busy chasing thugs in your fantasy?
J.M./ Poaching on the southern Schroffenschneide.
"At the moment writing is what's most fun to me, of course."
L.L./ Books, films, and readings – you're a busy man. What is your next project?
J.M./ My next non-fiction book will come out at the end of October 2017 and it'll be about 'Christmas', obviously from a cabaret artist's point of view.
L.L./ Now, in all honesty: In your books, you describe the small town in the Alps as quite the dark and dangerous place. Is it really that bad?
J.M./ It's much worse, actually. I toned it down quite a bit. And the people in the region are thankful for that.
Wordrap with Jörg Maurer
When I was a child I wanted to be …a vet. And a teacher. And a gymnast. And always a writer, actually. So, it's good that I actually became a writer. Where would I ever get a job as a gymnast nowadays?
My sources of inspiration in Garmisch-Partenkirchen…the locals in an around and sometimes outside of Garmisch-Partenkirchen.
Roast pork or lobster in almond crust? The Beatles, in an almond crust, and real Werdenfelser 'Hoba'.
This is my favourite spot for writing: at the post office in Mittenwald, at the table where Goethe sat on his trip to Italy on 7 September 1786. Nice side effect: when you write there everything suddenly starts to rhyme.
My favourite way to murder someone: letting them live to the bitter end. Also called 'marriage'.
My role models are…Arno Schmid, Raymond Chandler, Thomas Bernhard.
Three books one must have read: 'The Futurological Congress' by Stanisław Lem, 'Edith's Diary' by Patricia Highsmith, 'The Character of Rain' by Amélie Nothomb.
Jörg Maurer
Jörg Maurer was born in Garmisch-Partenkirchen in 1953, after his A-levels he studied German literature, English literature, and dramatics in Munich. He worked as a German teacher at a college in Munich for five years and realised his own productions in several theatres in Munich later. Afterwards there were many appearances as musical cabaret artists focusing on cultural satire as well as several radio broadcasts. Since 2002 Maurer has regularly been publishing short stories and thrillers. In 2009 his debut thriller 'Föhnlage' (= Foehn conditions) was a great success and since then there has been a new novel of the series every year. In spring the 9th novel titled 'Im Grab schaust du nach oben' (= 'You'll be looking upwards in your grave') was published by Fischer publishing house.
---
Share Article