Tattooed skin and traditional at heart
Interview with Marco Wanke
The doorbell rings at the La Loupe office in Munich, the front door opens, and we hear someone huffing and puffing on their way up two flights of stairs. Shortly thereafter we find ourselves in front of a cheerful Marco Wanke, accompanied by his visibly exhausted companion: his bulldog, Alfons. As we start the interview the four-legged visitor's huffing and puffing quickly turns into regular snoring – and that in spite of the fact that the interview with Marco Wanke is anything but boring. The secret weapon from Farchant near Garmisch-Partenkirchen talks about his love for his home, a life in the spotlight, and his first attempts at moderation in his childhood bedroom.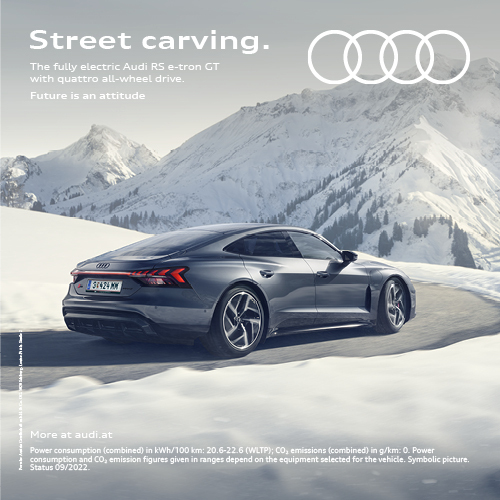 "I do everything that amuses people and makes them happy. In short: entertainment."
L.L./ Mr Wanke, you are quite the jack of all trades. Imagine having to explain to a stranger what it is you do all day: how would you describe your daily life and your job?
M.W./ My public persona is different from what I'm like in my private life. Outwardly I'm always the joker – with a very well-structured daily routine, though. All of my days are the same, really, much like in "Groundhog Day": I get up in the morning, take my bulldog Alfons for a walk and have to espressos and an orange & soda at my usual café. Then I'm at the office until 12 and after that I usually have lots of appointments. What I really do? I do everything that amuses people. In short: entertainment. Which is why my company is called Rock'n'Fellas Entertainment. People's perception of me is often that of a bon vivant. What many don't know, however: I was trained at TV Munich and I worked for several print media and radio – but many people never realised. Only when I organised the first classic car festival in Garmisch-Partenkirchen did that image of the perpetual hedonist change. Suddenly Mr Wanke was moving things all over the place.
M.W./ I criticise much so I often rub people the wrong way. And here's the catch: if you criticise you have to be willing to change things, too. In Garmisch-Partenkirchen I was always missing entertainment for young people. Then I organised the classic car festival and the people were in raptures. Shortly after that an advertising agency came to me and asked me to revolutionise the spring festival. I thought about that for a while and wanted to establish an event that works for all generations: the White Night. It's an event where everyone comes together at a 600-metre long table. At the beginning the people of Garmisch-Partenkirchen were quite sceptical and weren't sure whether the concept would work. But what can I say: 5 years later, 10,000 people, all dressed in white. After that came Brunnenfest in Partenkirchen which immediately attracted numerous guests.
"I organise all these events because I am convinced that I have to change things up in Garmisch-Partenkirchen."
L.L./ No matter if it's the white night, Rock'n'Fellas or Streetfood Festival. Today there are quite a few events in Garmisch-Partenkirchen that bear your handwriting. What potential do you see in the alpine destination?
M.W./ I organise all these events because I am convinced that I have to change things up in Garmisch-Partenkirchen. That's not always easy. I like to say: if you can do it in Garmisch-Partenkirchen you can do it anywhere – and not vice versa. The locals are very loyal but until you have that loyalty it'll take incredible amounts of commitment and sweat. And precisely that stubbornness ends up being the final obstacle for some. That's where the wheat is separated from the chaff! In general, you can say: all things that have something to do with eating and drinking will work out perfectly in Garmisch-Partenkirchen. It is, however, tricky to realise new ideas because many think: "We've never done something like this! We're doing fine the way we are."
"If you can do it in Garmisch-Partenkirchen, you can do it anywhere."
L.L./ You are from Farchant, four kilometres outside of Garmisch-Partenkirchen. Would you say you have a kind of home advantage?
M.W./ Today I do, yes. Ten years ago that was quite different because I never looked like the classic local from Garmisch-Partenkirchen. I have tattoos, I used to have dreadlocks, I drove crazy bikes and cars – and all that didn't really jive with the village image. By now people have realised that I am very close to my roots. And the administrative offices trust me, too. With us it's always: "A man of his word".
L.L./ You excel at the balancing act between tradition and modernity. How important are your roots to you? And how do you mange to reconcile them with your events?
M.W./ To be honest, I'm not one to take part in every club and association but I do try to conserve tradition and I work a lot with clubs because without them nothing works. In my private life I value tradition and I enjoy wearing traditional costume, I even have my home town's coat of arms tattooed and I used to be on the local council, too. It may not seem like it at the first glance, but I really am quite the traditional bourgeois.
M.W./ It's nice that there is a trend towards the regional again. A few years ago I somehow became Garmisch-Partenkirchen's traditional/crazy ambassador. On the one hand I have the tattoos, on the other I enjoy old alpine sports like rock lifting and finger wrestling. At the end of the day you simply can't judge a book by its cover.
"I really am quite the traditional bourgeois."
L.L./ Among all the events: is there an event in Garmisch-Partenkirchen you are particularly fond of?
M.W./ I've been organising events since I was 24 years old. Back then I was a full-time DJ, I got around the clubs a lot and, of course, I brought ideas to Garmisch-Partenkirchen.
M.W./ Having to decide on one event in particular is tricky, though: the white night was the door-opener for me. I have many crazy ideas where I do know that they'll probably not work out. At the moment I am working on a project that is going to start in November: a coffee & lifestyle fair called Melange, an event I am really quite fond of. Within the framework of Melange coffee will be presented in all its forms – the guy who sat next to me in school makes Wild Kaffee today – and other aspects in connection with the lifestyle. Baristas will show off their skills and there will be wine, whiskey, craft beer, and gin tastings, too. Aside from that I am a big fan of books which is why there will be a stall selling books and one for records. We are still in the process of figuring it all out, but I can imagine that it'll be my favourite fair because it'll be very personal.
"You simply can't judge a book by its cover."
L.L./ You have showed off your skills as a moderator at more than 300 events. Which event do you remember in particular?
M.W./ Well there are many different kinds of moderation. I would never be able to do serious news or sell something to people. I'm simply too honest for that. Of course, I am a showman and it's great when there are lots of people in front of the stage. In terms of success I remember Gamescom, where I got the chance do moderate on the main stage. And there were about ten shows per day with between 2,000 and 3,000 people in the audience.
M.W./ As far as the atmosphere is concerned the winner is the mountain festival on Wank, though. It was great fun to entertain the audience together with the bands. I also enjoy the Red Bull events, like the "Fensterlkönig" or "Bob Heros".
M.W./ I would like to do more for TV, but I'm always told that my regional accent is too thick. So, I'm still missing that jump into television but I'm working on it.
L.L./ Would you start speaking standard German instead of your dialect then?
M.W./ No! Much like I would never shave my head. I'll stay exactly the way I am. And either people like me that way or they don't.
L.L./ You just mentioned that at some of the events you've got thousands of people listening to you. Do you still get nervous when you're on a large stage?
M.W./ It's funny, actually: when the event is small I tend to be more nervous than in front of a large crowd. I don't know why, but I guess it has something to do with anonymity.
M.W./ I generally have no script of moderation cards, I look at the text ten minutes before the show and then I can reproduce it. Which also means I only keep it in my head for about an hour after (laughs).
L.L./ You say yourself that you're a showman. Did you always enjoy being in the limelight?
M.W./ Even as a kid I recorded cassettes in my room where I pretended to be a radio host. Looking back I think that's super embarrassing. Back then I used to do shows for my mum and friends. In kindergarten I played Joseph in the nativity play and in school I was involved in the evening events. I always enjoyed being on stage but back then I was much more worried than I am now. Everything I said had to be perfect. I completely lost that attitude when I was in my mid-twenties. Nothing has to be perfect.
"I'll stay exactly the way I am. And either people like me that way or they don't."
L.L./ In your professional life you like to be at the centre of attention. Is that the case in your private life, too?
M.W./ What I do notice and it's becoming worse every year is that I'm becoming somewhat unsocial. I don't want to sound arrogant, but I've stopped going to public pools or events because the customer forgives nothing – even if I'm simply not in the mood for a chat and simply want peace and quiet. I don't want to offend anyone but when I'm at home I'm ME. Here I don't want to play a role, I'm very quiet, I listen to music or I play with my dog, Fonsi. I also enjoy getting on my bike or in the car because there I'll be on my own as well. And it's also the best way to find new ideas. I really used to be everywhere, all the time – today I tend to decline invites. It's important for me to have a private life.
L.L./ As a DJ you also got around quite a bit. What mix will really draw you out onto the dancefloor?
M.W./ That always depends on the event. At private parties, weddings, and christenings mainstream works, and so do older classics like "Summer of 69" or "Like the way I do". Those are songs that everyone knows and where everyone can sing along. When the situation allows it I like to mix the songs with a bit of house – during sunset at the Wank festival. The playlist definitely depends on the people. In the South of Bavaria people won't dance to songs they don't know. In Cologne the audience will celebrate every great song. Austrians like more simple party music that will not work in Cologne anymore. In Switzerland you need pretty crazy mixes and in the USA each song is only played for 30 seconds.
"Nothing has to be perfect."
L.L./ On top of everything else you are the owner of the tattoo studio Tattoo Fellas in Garmisch-Partenkirchen. What was your first tattoo? Did you parents know about it?
M.W./ When I was 15 I wanted to get my first tattoo, a scorpion the size of a 5-mark coin, my zodiac sign. My mum agreed. I wanted to have it on my calf and went to Munich to get it done, and I did get it done all on my own and I was very proud. The tattoo artist said though that the size wasn't going to work though and that he'd have to modify it a little. So, I let him do his thing. In the end it was quite a bit bigger than planned, the scorpion's claw alone was the size of a coin. My mum had to have a double shot of schnapps when I got home and then she didn't talk to me for a week. I never regretted it though.
L.L./ None of your tattoos?
M.W./ No, they all go with a certain time of my life. I've had two or three cover-ups done over time. But the tattoos simply are a part of me.
M.W./ I personally don't tattoo, I really lack talent. Each of my drawings looks like artwork by a three-year-old. I have tried it and actually tattooed my tattoo artist – but then I quickly left it be.
"My tattoos are a part of me."
L.L./ It's clear that you are a rock'n'roller through and through. Imagine you were able to spend the next 24 hours with an idol from the 1950 or 60s. Who would you like to spend that day with?
M.W./ As far as music goes I'd spend 24 hours with the Rat Pack in Las Vegas because I want to know if they really drank as much as they say. As far as personalities go I'd like to meet John F. Kennedy, I'd very much like to find out if society was as conservative and hypocritical back then. What I always found fascinating about that time: the manners. You had to ask a girl's father if you were allowed to take his daughter out on a date. And conflicts were sorted out in private.
Marco Wanke (born in 1979) is from Farchant near Garmisch-Partenkirchen. In the early 2000s he trained as an editor at TV München, after that followed a time in print media and radio. With his company Rock'n'Fellas Entertainment he organises numerous events such as the White Night, Brunnenfest, Streetfood Festival Garmisch-Partenkirchen and he is very popular as a moderator in the German-speaking region.
www.marcowanke.com

---
Share Article