In the blink of an eye...
Interview with Michaela Nelhiebel from Optik Schneider
Under the motto "See better, experience" the team around Michaela and Gerhard Nelhiebel greets its clients at the optometry shop Optik Schneider where they offer the best possible advice on "all things concerning a good sight". The specialist business is an eyesight counselling centre and competent partner when it's about the topic of eyes. For more than 85 years Optik Schneider has been working with the latest technology and the highest quality standards. La Loupe spoke to the owner, about the business' history, current trends when it comes to glasses, and all the aspects one should take into consideration when buying new glasses.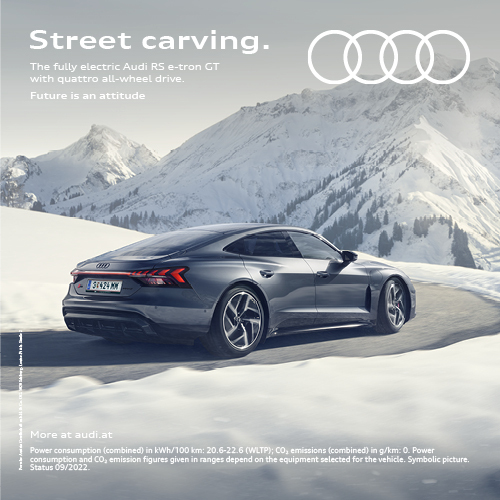 "The passion for our job runs in our veins."
L.L./ Optik Schneider celebrated its 85th anniversary last year. Would you take us on a short trip down memory lane?
M.N./ In 1931 my grandfather came to Garmisch-Partenkirchen as the town's first "imported" soccer player and optician. He met his wife here and founded Optik Schneider in her parents' house. Later my mother Helga Braun took over the shop and today my husband and I run it together. The fourth generation, our son Moritz, has just passed his final apprenticeship exam and will hopefully take over Optik Schneider. The passion for the job runs in our veins, so to speak. Even when I was a teenager I always helped out in my parents' business, I practically grew up here.
M.N./ Even today Optik Schneider has one decisive advantage: we have staff who have been with us for a long time, four of our employees have been here for more than 20 years, and our secretary has been with us for 60 years. This fact certainly played a big role in our success. We simply are a great team! Apprentices who are trained here often stay until they retire. Training generally is very important, unfortunately the industry has too few trainees.
"At Optik Schneider we stock only the latest models, we really make a point of that."
L.L./ Spectacles have become a fashion statement. How does this fact show in our optometry shop?
M.N./ We have the latest trends from known fashion labels. At the moment, mirrored glasses in different colours and particularly flat sunglasses are extremely hip. In Garmisch-Partenkirchen people value extravagant models, much like in a big city. It's good fun to see the latest trends and watch the developments. Here at Optik Schneider we really stock only the latest models, that's something we make a point of. Even my grandmother used to import the latest sunglasses from the USA because she had good contacts. The shop has always kept pace with the latest trends. Today we already offer next year's spring and summer collections in autumn. Aside from classics, we only stock each model once. What's sold is sold! We'd rather buy new models. Especially when it comes to sunglasses that are not worn all the time like prescriptions glasses, the clients are more bold. As a fashion accessory, sunglasses improve every outfit.
"The wearer should like the glasses and they should fit – trends are of secondary importance."
L.L./ What materials are particularly popular at the moment?
M.N./ Right now we have many wooden frames, we can't yet tell though whether this trend will last and if wooden frames will become classics. Horn still is a great material that is pleasant to wear because it's both light and sturdy. Titanium and metal are also popular because of their lightness. In general, you can say that glasses have become more colourful.
L.L./ No matter if they're simple or super anti-reflective, with a frame or without, mad from wood or plastic – the choice of models is huge. What aspects are important when buying a pair of glasses?
M.N./ What's most important is that the wearer likes them and that they're comfortable – trends really only come after that. Also, the glasses should fit the wearer, fashion aspects aside, and meet the requirements of their everyday life.
"We have about 4,000 sunglasses and 2,000 prescription glasses on stock."
L.L./ Upon entering your shop one is surrounded by numerous frames. How many models are there at Optik Schneider?
M.N./ We stock about 4,000 sunglasses and 2,000 prescription glasses. Plus customised products that are made together with innovative firms such as YouMaWo – in order to do this we use a 3D-scanner to scan the client's face.
L.L./ As an eyesight counselling centre you have the latest technology, state-of-the-art eye test machinery, competent consultation and the latest frames. How long do clients have to wait before they can pick up their glasses as Optik Schneider?
M.N./ If we have the lenses on stock it takes us about an hour to finish the glasses. Even when it comes to customised glasses we often are really fast, sometimes the spectacles can be picked up the next day. Seeing as we here at Optik Schneider have many international clients who only spend a limited time here while on holiday, time is an important criterion. Aside from that we also try to respect cultural aspects. We have a separate room for Arab women where they can take off their headscarf and be counselled discretely by female staff.
"It takes us about an hour to finish a pair of glasses."
L.L./ Nowadays one can buy sunglasses everywhere, even at very low prices. Why should one still pay attention to the quality?
M.N./ First of all, UV-protection is important and the lenses should be well-made – that is not pressed but cut. Polarised models are important for winter sports, they also absorb horizontal reflection and make it easier to see the terrain properly. In summer, they reduce the reflection on water. In Canada, they're even forbidden at salmon fishing competitions because with the glasses one can see the fish better. That would be unsportsmanlike (laughs).
Wordrap mit Michaela Nelhiebel
Spectacle wearers are…fashion-conscious.
Contacts or glasses? Both, depending on the sport.
I would rent glasses …for special activities like snorkelling. Diving goggles with optical lenses are great.
My favourite glasses …are the pair that I'm wearing.
At the moment, I have …six pairs of glasses. Always in matching colours and new models every year.
Öffnungszeiten:
Mo – Fr 9 – 18.30 Uhr,
Sa 10 – 16 Uhr
---
Share Article