A kingdom for a grape
Interview with Markus Kirnbauer from the K+K Kirnbauer winery
There is no doubt, Austria's best reds grow on top of the Blaufränkisch region. Thanks to 300 days of sunshine per year and a view of the snow-covered peaks of the Eastern Alps as well as the Pannonian Plain the traditional K+K Kirnbauer winery produces a very special vintage that has passionate fans – even on Arlberg. In his interview with La Loupe wine maker and manager Markus Kirnbauer looks at the fascinating symbiosis between wood and vine, tells us about his favourite project, and explains why wines taste differently in Lech Zürs.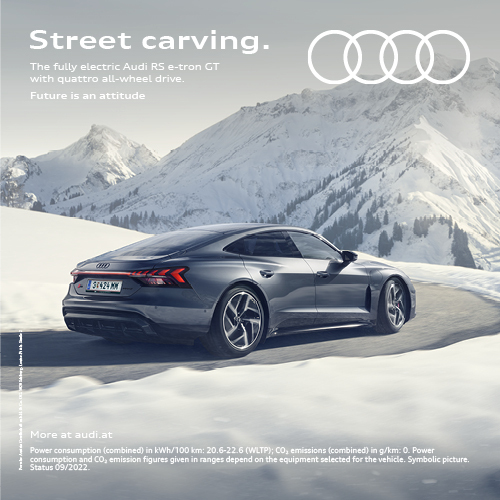 "On Arlberg you can find the most exclusive businesses, which is why you'll also find the most exclusive and best wines in the world there."
L.L./ Your fine wines can be found on (almost) every wine list in Lech Zürs. How did that come about?
M.K./ The Arlberg has the best restaurants so it's only natural that only the world's most exclusive and best wines are served here. And Austrian wines are among them, too. Back in the 1990s my father had contacts on the Arlberg, he visited the businesses here and today the hotels and their sommeliers pay visits to our winery where they inspect the harvest and the wine cellar. It's important to see where the wine comes from. That makes it so much more approachable and the process of winemaking more transparent and relatable.
M.K./ At first French and Italian wines were particularly popular around here, Austrian wines only followed slowly. Our reds with their combination of fruit and a full body are inimitable and they go particularly well with food – something the guests in Lech Zürs notice. The Austrian wines make a holiday on the Arlberg a little more regional.
The K+K Kirnbauer winery
"Austrian wines make a holiday on Arlberg even more regional."
L.L./ You yourself like to spend your holidays in Lech Zürs. When someone at the next table orders your wine, how does that feel?
M.K./ It's great, of course – all the more so when the guests enjoy it. That's a beautiful experience.
L.L./ Deutschkreutz in the Blaufränkisch region is located at 192 metres above sea level, Lech Zürs at 1,444. Do the wines have to be stored and drunk in any particular way on Arlberg?
M.K./ The higher up you are the lighter the wine will taste, even though the alcohol content stays the same. The wood flavour is much less intense. And the air at high altitudes has different effects, too, the cork dries out more quickly and crumbles. That's something to be kept in mind.
M.K./ The combination of fruit in the nose and the body on the palate is what characterises our wines and makes them stand out. In the mountains this comes out even more. Light classic wines seem too light higher up, reserves, however, have an extraordinary taste – almost better than lower down.
"The higher up you are, the lighter the wine will taste."
L.L./ The red blend Phantom is an Austrian icon. Is it equally popular on the Arlberg? Or do people have other preferences here?
M.K./ Most of the wine we make is Phantom in its four varieties – which make it extremely varied in terms of character. And on Arlberg lovers of red wines will certainly fine one that suits them. Yet, our boutique wine Forever also is quite popular here. One particularity of the Arlberg: all bottle sizes are popular – no matter if it's magnum, three or six litres. In larger bottles the wine will age more slowly; plus, opening such a large bottle feels like a very special moment.
"The combination of a fruity nose and a full body on the palate is what characterises our wines."
L.L./ In your vineyards in Burgenland your vines enjoy 300 days of sunshine each year. What other factors make your wines so very delicious?
M.K./ Each bottle is made with passion and has our lifeblood in it.
M.K./ The maturing process plays an important role too, though: reds are stored in the barrel for at least one summer and one winter. This year's harvest is bottled next year. However, with high-end reserves it's all about the vintage: some will even be stored for 17 or 18 months which is where tasting plays an important role, of course.
L.L./ When do you know whether a wine has matured enough and is ready to be bottled?
M.K./ It's tried constantly, and we look at the development – that's a very important factor.
"Our Phantom is our most popular wine and with its four varieties it has a large spectrum of characteristics."
L.L./ Your philosophy is: "Harmony of wine and wood". What does that mean, exactly? How do the wine and the barrique barrels influence one another?
M.K./ It's the careful choice the cooper makes, the toasting of the wood and the variety – which plays an important role here. Not every wood is suitable for every grape variety because each grape variety has its preferences. And we take good care of those and constantly look at what the wine needs. What's fascinating is that our Zweigelt is matured in our own oak barrels. The wood comes form our own oak forest.
L.L./ In the Chardonnay Barrique Zwickl flavours like ripe pineapple and piña colada meet white pepper, sage and a salty note. How much creativity does it need for the job of a winemaker?
M.K./ Because of the wood and the rocky limestone soil the Chardonnay develops unique flavours that remind us of pineapple and piña colada.
M.K./ We have to look for the right balance every day, and it's experiments like this make the wine unique and challenge us every day. The kind of variety you find in the winemakers' job is truly unique. I am many things – gardener, entrepreneur, and even tax advisor.
"Each bottle has our passion and our lifeblood in it and we are 100 percent committed to it."
L.L./ Your wine is not just popular in Austria, meanwhile it's known in the USA and Singapore, too. What goals do you have for the coming years?
M.K./ The German-speaking region certainly is our largest distribution area but in other parts of continental Europe, the USA, and Asia we also have sales partners like restaurants, good hotels, and wine sellers. We put a lot of work, lifeblood, and thought into our wines – which is also why it's important for us to know where exactly you can buy them.
M.K./ At the moment we are turning a century-old hotel into a top restaurant cum boutique hotel. Because, while we may have the best Austrian reds here in Burgenland, there is only little going on in terms of modern gastronomy and hotels. That's what our starting point is. And it's a wish we've had for years.
L.L./ How well do food and wine have to go together?
M.K./ The wine is part of a whole and it's important to look at the limits. The rule: anything that tastes good is ok. And wine without food definitely works, too (laughs).
The K+K Kirnbauer winery is a family-run business managed by Markus Kirnbauer and his father Walter. "Our wines stand for sustainable indulgence, Pannonian joie de vivre, and they are an expression or our identity" says the manager. The red blend Phantom in particular has been a fixed part of the wine cellars in exclusive restaurants and hotels since 1987. The speciality: up until the point when they're bottled the fine vintages are stored in barrique barrels which ensure a truly inimitable taste.
Weingut K+K Kirnbauer
Rotweinweg 1, 7301 Deutschkreutz
+43 2613 / 89722
kirnbauer@phantom.at
www.phantom.at

Opening hours:
Mon – Sat 10 am – noon & 1 pm – 6 pm
---
Share Article