The best from four countries
Summit restaurant Panorama 2962 on Zugspitze now open
On the top of Germany's highest mountain one milestone is currently chasing another. After the opening of the high-tech cable car to Zugspitze in December of 2017 and the opening of the completely renewed restaurant area on the summit all these impressions – a spectacular ascent and culinary highlights – combine to form an extraordinary overall experience.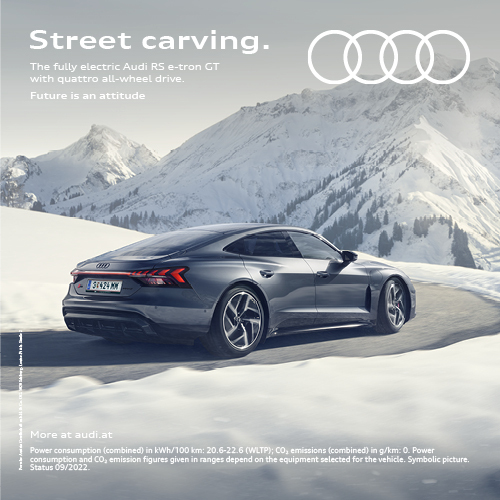 Epicures can look forward to an innovative concept that promises open hybrid-gastronomy. This means that guests at the Zugspitz summit can simply choose between self service or classic table service. While the entire restaurant is called Panorama 2962 the individual areas are characterised by their own atmosphere, inviting guests to have a quick bite or a lavish meal. From quick coffee to snacks all the way to classy menus and group parties, conferences, and concerts: the different areas and multifunctional rooms make it all possible. All this guarantees excellent perspectives – in terms of landscape and culinary offer. All in all, Panorama 2962 offers indoor seating for 450 guests and outdoor space for about 850.
Alpine Schmankerl für jeden Geschmack
Making reference to the impressive 4-country panoramic view at the top of Zugspitze, the culinary motto of the new summit restaurant simply is: "The best from 4 countries." "Because of this orientation we can offer a wide spectrum of dishes and make national and international guests happy," explains Klaus Schanda, head of marketing and sales at Bavarian Zugspitz railways. The menus offer regional delicacies as well as dishes from Italy, Austria, Switzerland, and German – a delicious tour of alpine culinary diversity. And not just the inspiration but also the ingredients are regional – everything comes from a radius of no more than 250 km. The kitchen managers value organic and GQB (certified Bavarian quality) products as well as Fair Trade, whenever possible.
"A skiing career was always out of the question for me."
Interview with designer and illustrator Ameli Neureuther
The Dallmayr Coffee Bar in Panorama 2962 offers a unique art experience on Germany's highest peak. Acclaimed illustrator Ameli Neureuther created a four-part panoramic painting specially for the space, which will be on display there permanently. In an interview, the artist, who grew up in nearby Garmisch-Partenkirchen, told us about her fascinating career and explained why she never became a skiing legend.
L.L./ Your mother is Rosi Mittermaier, your father is Christian Neureuther, and Felix Neureuther is your brother – everybody else in your family seems to be a legendary skier. Did you ever consider a career as a skier?
A.N./ A skiing career was never really a realistic option for me. But of course I started skiing when I was two and a half. After all, Garmisch-Partenkirchen is surrounded by mountains, and I also came from a skiing family. But for me, skiing was always about fun. I skied until I was 16, and made the ski club squad – but soon realized that I enjoyed meeting up with the Munich ski clubs more than the races. So my ambition was in the wrong place (laughs).
A.N./ I always felt that I had to do my own thing, and wanted to distance myself somewhat from a skiing career. My parents always supported me in this and encouraged me to go my own way. I'm like a butterfly, I drift along and always trust my intuition.
"I'm like a butterfly, I drift and trust my intuition."
L.L./ At 16, you turned away from sport towards fashion and art. You left to study in Munich and London, swapping an idyllic small town for big cities. How important was this step for your development as a designer and artist?
A.N./ At the time I was still quite young when I did my vocational school diploma with a design specialization. I moved into a shared apartment with two other girls, and this move away from my family to the city in particular was very important. I would say that I was already a little different then. I always felt an urge to experience more than my friends of the same age. I wanted to improve my English and went to Cambridge for a kind of foundation year. I have a lot of good memories of this time. I always knew that I was creative, but I wasn't sure which direction I would take. I was able to try nine directions there and specialized in fashion, ceramics and drawing. I was particularly interested in fashion because it combines drawing with fabrics and colours.
"I was in fashion heaven for six years at Wolfgang Joop. It was not commerce-driven and I was completely free to be creative."
L.L./ You worked in New York for the Marc Jacobs label and designed for Joop's "Wunderkind" in Berlin. What fascinates you about the fashion business?
A.N./ After Cambridge, I studied fashion at Esmod in Munich – that was tough, but it was ideal preparation for the job. Then I applied to Marc Jacobs and went to New York for six months. The city is simply pulsating, and the atmosphere is like nowhere else. From there, I applied to Wunderkind in Berlin; that was more of a coincidence, because my mother had seen on TV that Wolfgang Joop was establishing a new label. The style suited me to a tee and I worked my way up from intern to designer. I was in fashion heaven for six years. It was not commerce-driven and I was completely free to be creative. I also got to work side-by-side with Wolfgang Joop, who really inspired me; he also started off as an illustrator.
A.N./ Then I quit and didn't know what to do next. By coincidence, I found the SketchBook app and started using it to draw portraits of friends – something I didn't get enough time to do in the past.
"It is a colourful compliment to the wide range of leisure activities on offer on Zugspitze."
L.L./ What many don't know: you are following in a family tradition that can be traced back to the 18th century with your art. Your great-great-grandfather already embellished poems by Goethe. Do you see any similarities between your forefathers' art and your own work?
A.N./ I started taking an interest in my ancestry at 32. Many of them were architects and artists. One was Ludwig Neureuther, who documented folk costumes of the 17th century in drawings. We still have those pictures in our hallway. So there was already a link to fashion even back then. His son, Eugen Napoleon, was a friend of Goethe and embellished his poems. And I love Goethe! I am going to illustrate a children's book that a friend of mine wrote, which also includes poems. Things have come full circle. I also see similarities to my ancestors in terms of drawing style.
"It is a colourful compliment to the wide range of leisure activities on offer on Zugspitze."
L.L./ You make art with your cell phone and tablet: app art. The screen is your canvas, a finger is your pencil. What does modern technology give you that "classic" materials do not?
A.N./ I don't think they are comparable. I am a real pencil fan, as they let me draw faces – and that's what I love to do – more precisely. But the great thing about doing art on the tablet is that I can change colours quickly, zoom in or out and can even undo steps if I want.
L.L./ The recently opened Panorama 2962 on Zugspitze mountain features a large-scale work of art you created using this technique. What was your intention behind it?
A.N./ It is a colourful compliment to the wide range of leisure activities on offer on Zugspitze. I reinterpreted the imagery in the style of the tourism and cable car posters from the 1970s, 1980s and 1990s. Thanks to my app art, I can record subjective feelings and impression in drawings, and concentrate on the vital, main aspects. My panorama image is actually made up of four individual pictures, and was produced entirely on a tablet and then enlarged to 5.50 x 2.30 meters. The vibrant colours really bring the art to life in the modest interior of Panorama 2962.
A.N./ Out of your daily routine, into nature! Breathe. Enjoy the moment! Those were the ideas behind the work.
"For me, Zugspitze is a family experience."
L.L./ The picture also shows your son and your father.
A.N./ Yes, exactly. The two weren't planned, but I wanted a connection to the persons shown – then I thought of my son and I also found an old photo of my father, in garish ski garb. For me, Zugspitze is a family experience. Now the work has a very personal link for me; I invested a lot of heart and soul into it.
"After skiing, I want something hearty."
L.L./ Panorama 2962 has been open since early July. What do visitors to the summit bar and restaurant think of the artwork?
A.N./ I couldn't wait, as I didn't know where the image would be and how it would look. I was delighted when I saw it there, and I haven't heard anything negative yet. It gives the coffee bar a totally positive atmosphere. And it is great that Garmisch-Partenkirchen is moving in a more modern direction with this, and appealing to younger people. At the same time, it still succeeds in building a bridge between tradition and modernity.
L.L./ Up here, culinary delights from four countries are served in different areas. What do you like to order, and which room is your favourite?
A.N./ I haven't been able to try everything out yet. After skiing, I want something hearty, especially at altitude. I like pizza, curry-wurst, schnitzel, goulash soup or pancake soup. I really love classics like that! And my favourite place? It genuinely is the coffee bar – not just because of the art, but because it has a direct view of the summit cross. It's really super cosy!
L.L./ You moved back to Garmisch-Partenkirchen. Did you miss the mountains and nature in the big cities?
A.N./ Definitely. I am torn between the feeling of home in Garmisch-Partenkirchen, my family and how down-to-earth the people are there, and on the other hand crazy, open Berlin and the world. You can't have one without the other. But when you have a child, Garmisch-Partenkirchen really comes into its own. My family is there, and I want my son to grow up happily here for the first few years. I have no idea where we will end up eventually! I am a butterfly, I'm curious and I want to experience things – but I know that I can always find support in Garmisch-Partenkirchen.
L.L./ What is the creative scene in Garmisch-Partenkirchen like? Do you sometimes have to go back to the bustling big city? Or can you build a network at the foot of Zugspitze?
A.N./ It is tough. Of course there is a little art scene. But I do miss the things I need for inspiration. I find ideas in Berlin and other cities. They are bubbling over! And the people are also much more diverse. In Garmisch-Partenkirchen, I get more inspiration from nature and the peace. Both are important for me.
"In Garmisch-Partenkirchen, I get more inspiration from nature and the peace."
L.L./ Now you work as a freelance designer and illustrator. Can you tell us about your upcoming projects?
A.N./ The children's book project is really dear to my heart, and that's what is coming up next. The author is a good friend from Berlin and wrote a really delightful story. It's a little more grown up, for children six years old and older. We are going to start this project in August. I'm also really into interior design at the moment, and am taking on a complete interior for a wine hotel in Franconia. I have a good hand for décor, but I didn't study it. But that is exactly what the hotelier wanted: Someone with a good feel to create an overall line, without forcing their style on the hotel. This project is really fun, and I could see myself taking on more work in this area.
Ameli Neureuther grew up as the child of successful ski racers Rosi Mittermaier and Christian Neureuther in Garmisch-Partenkirchen. She studied fashion in Munich and worked for Marc Jacobs in New York and Wolfgang Joop in Berlin. Today, she's back at the foot of Zugspitze where she lives with her son Oskar and works as a freelance designer and illustrator.
---
Share Article