On two boards – or all fours
Uphill Challenge Rüfi 900
An 80 percent gradient? Sounds incredible! The slope in front of the extreme athletes' eyes is almost vertical – and it's not going down but up. Rüfi 900 is THE uphill challenge in Lech Zürs – participants have to make it up the ski route Langer Zug from Schlosskopfplatz all the way to Rüfikopf.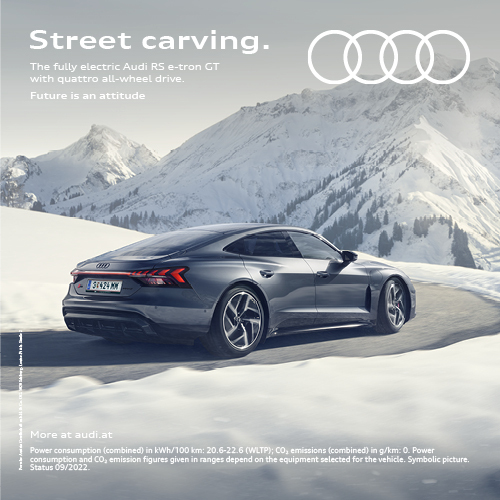 In 2018, for the second edition of the race, 40 participants got together in beautiful, sunny weather – twice as many as at the premiere in 2017. And this success will be continued on 6 April 2019 at the 3rd Rüfi 900.
The route for Rüfi 900 is one of the steepest ski slopes in the world. Which makes it all the more challenging to get up there on foot. La Loupe has important tips and information for the race:
The route
Ready, steady, go! All participants start on Schlosskopfparkplatz in Lech at the same time, at 1,444 altitude metres. Via Stubenach the route leads into Wöstertäli and from there up the legendary Langer Zug to the finish on Rüfikopf. The core element is Langer Zug and in order to conquer it the participants will need to give their all: 300 metres of extreme gradients up to 80 percent. It's essential to pace yourself here.
By the time they're almost near the finish line at 2,350 altitude metres the participants will have covered 5.5 kilometres and 960 altitude metres. And even though everyone would love to be the first to make it, winning is not everything. At Rüfi 900 the motto is: everyone who makes it across the challenging route is a proud winner!
The prerequisites
Safety first! All participants must wear a helmet. Aside from that climbing aids in the form of ski crampons, snowline, spikes or sticks are required and will be checked before the start of the race. Long-sleeved shirts and pants are also compulsory.
The equipment
No matter if they choose to wear touring ski boots, cross country ski boots, hiking boots, snow shoes or running shoes with spikes – the participants get to decide themselves. Motorised aids, however, are not permitted. That would really take the fun out of it, though, right?
Food and organisation
The event is hosted by Skiclub Arlberg who guarantees a perfect race with three food stands, several goals that show the direction as well as nets. After the race everyone will sure be hungry – so Postgarage Lech invites everyone to dine together (food and drinks vouchers are part of the starter package). Live music and a raffle complement the varied framework programme.
When the sun slowly sets behind the mountains the day will come to a perfect close: Postgarage hosts the Rüfi 900 party. Everyone can dance and celebrate until the wee hours of the morning.
Hard facts:
Date: Saturday 6 April, 2019
Start time: 9am on Schlosskopfparkplatz, Lech
Route: Lech – Wöstertäli – Langer Zug – Schafalpe – Rüfikopf Berg
Starting altitude: 1,444 metres
Finish altitude: 2,350 metres
Altitude difference: 960 metres
Route length: 5.5 kilometres
Gradient: 80 percent maximum
---
Share Article