Sensitivity and strategy
Interview with Michael Gerber
As of April 1st, Garmisch-Partenkirchen Tourismus was extracted from the community's administration and transferred into the limited company GaPa Tourism GmbH. And on June 1st Michael Gerber, whose last workplace was Bremerhaven and who is from northern Germany himself, became manager of the limited company. In his La Loupe interview he speaks about how he's settling in in the south, what challenges the new position brings, and what role digitalisation plays in traditional surroundings.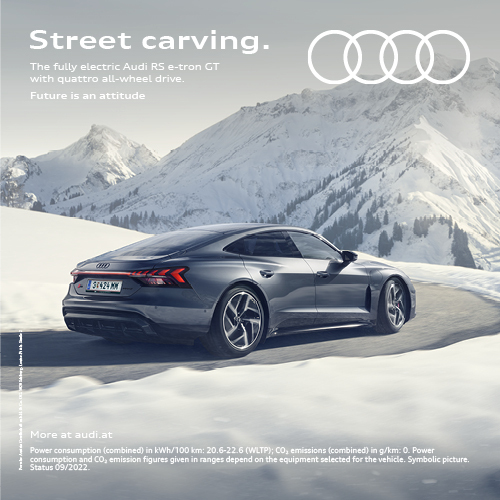 L.L./ When did you first come to Garmisch-Partenkirchen and what memories do you have from that time?
M.G./ I must admit that the first time I ever came to Garmisch-Partenkirchen was for the job interviews. I took a flight from Bremen to Munich and then I took a regional train. As someone from all the way up in northern Germany the first thing I noticed as I was looking out the train window was the alpine landscape. Unfortunately I had no time to explore the village and its surroundings on the day of my interviews, though. I really do like the mountains but in the past I used to spend more time in Austria – certainly an unusual admission for someone who applied for this post. But it makes me all the more curious and motivated to find out what I've missed so far.
L.L./ When was it that you realised how special the area is?
M.G./ Basically when I moved here. After I decided on Garmisch-Partenkirchen and signed the contract I moved right away and quickly got to know the place better. First it was more Garmisch than Partenkirchen. And when I started work my staff invited me for a meal and their first question was: 'Do you live in Garmisch or in Partenkirchen?'. That's a big question and the answer was – not just to my staff – quite significant. After all, uniting the two was mostly a political decision and the differences are obvious: Partenkirchen is more traditional and Garmisch is a bit more 'urban'. My flat is practically on the border, in Garmisch. From my balcony I can hear the Partnach's waters and it's literally seven steps to Partenkirchen – this way I do hope to serve both village parts equally. I personally seem to be attracting this phenomenon throughout my résumé, from two regions in Schleswig-Holstein to my life and work in Bremen and Bremerhaven all the way down to Garmisch-Partenkirchen. But I think the image is only complete when you know the history of the double village, only then can you understand the duplicity – when it comes to the fire department or the festival weeks which we have in Garmisch and in Partenkirchen, for example.
L.L./ And have you found your favourite spot yet?
M.G./ Even though I'm from northern Germany I wouldn't say I'm much of a sea person, more of a nature person. But what I do love, irrespective of where I am, is literally taking a dip in cold water. I used to love to go swimming in the North Sea during the winter months. And here the first thing I did was jump into Eibsee lake. That certainly is a spot I appreciate a great deal. Which is why I'd say that Garmisch-Partenkirchen's motto 'Discover your true nature' really does hit the nail on the head. I prefer to discover actively, the beautiful view of the valley is only complete when I've made my way up myself.
L.L./ How do you feel about skiing?
M.G./ Let's say I leave the black slopes to others, I'm more of a ski tour fan which is a lovely way of moving on and through snow. That's how I learned to ski. My last skiing holiday was quite a while ago though. So, before I put on the boards again as part of my management job I'll secretly go back to my old ski resort and refresh my skills (laughs).
L.L./ How do you perceive the differences between northern and southern Germany, how different – not only as far as geography goes – are the extremes really?
M.G./ I spent 23 years in Bremerhaven, the difference between that place and Garmisch-Partenkirchen is significant in every way. Not only during the first days but still today I am flattened by the many impressions. It's like a trip into a foreign country: nature, the buildings, the people, the sounds – the whole routine of perceiving what's around you is interrupted from one day to the other. Meanwhile I have gotten used to it more and I can absorb many things much more consciously but, of course, there's not only the professional step but also the break in my private life. I am faced with new tasks that require a lot of motivation, a new place, new people – a long chapter has ended and now a completely different door opens to a completely new terrain. Finally – and I hope that I'll be able to tackle that soon – I can fulfill my long standing dream of trying out wild water kajaking. My wife, however, is still bound to the north for professional and social reasons, so the differences between north and south are still very much part of my life. I do find balance between both parts of Germany in my creative place, the kitchen. That's where I can process experiences and impressions.
L.L./ Do you have an emotional or material souvenir, or maybe some kind of ritual that you've brought back from the north to Garmisch-Partenkirchen?
M.G./ I've got my old home on the walls of my apartment in the form of pictures of northern Germany. For me home is less of a place and more of a feeling. So, in my thoughts I always have an image of a surfer riding a wave in my head. And the tactile experience comes from a well-polished stone – which could also be from a lake near here, really – but this water stone gives me the strength to overcome any challenge.
L.L./ What can inhabitants and guests of Garmisch-Partenkirchen look forward to in the future?
M.G./ Well, I did not come to Garmisch-Partenkirchen with the idea or the intention to change everything from one day to another. In the past two decades a lot of successful work was done here and the conversion into a limited company means that we'll have more freedom. The first and most important step for me is to understand how my team works and what it does, how the networks function, and what structures there are as a result of past projects. But, to quote from The Leopard by di Lampedusa: 'If we want everything to stay the way it is everything needs to change.' So, in that context the question is whether everything should stay the way it is or whether change is necessary or appropriate? In order to figure that out I'll talk to the partners and people in the village, and we'll have a look at the figures to see what goals we need to pursue. What is the value chain for day and overnight guests, for example? How much growth and what kind of growth is desirable? The concept of new plans also means looking at consequences, according to the motto: have your cake and eat it, too.
L.L./ What will be the focus?
M.G./ Up until now there were 6-year plans. For me the main focus lies on working out a tourism strategy for 2030 that gives direction for the coming decade. Of course, this still contains operative 1 to 3 year plans, strategies that can be reflected and put into practise in the short term. As for the content, the focus for Garmisch-Partenkirchen is not just on alpine experiences in summer and winter, it's also about expanding the region's profile and reaching new target groups – as far as culture and culinary experiences go, for example. Aside from that the topic of digitalisation is an important point – the new website is a good place to start and a good databank but I think the guests should be able to get location-based, contextual information. The borders between real and digital life need to disappear – guests who are standing outside a restaurant should be able to book a table right away. Instead of mobile first the motto should really be mobile only. Which, of course, does not mean that Garmisch-Partenkirchen can only be discovered via mobile phone but it's supposed to match the consumers' way of doing things. Nature and detox don't have to automatically exclude digial life - which is always present after all; up on a mountain when taking a selfie or down in the valley when you enter a hotel or restaurant. We are looking at two facets of digitalisation: offering modern services for people as well as gathering valuable data so that our partners get the information they need to learn, understand, and improve.
L.L./ So, let's talk lederhosen…
M.G./ In spite of being from northern Germany even I had a pair when I was a kid. It certainly wasn't an original and it felt – and that would probably still be the case today – like a costume. I think you have to earn your lederhosen, it's not supposed to be a costume. When it comes to chosing clothing for the two festival weeks that are all about tradition I'll be sure to get advice from the renowned traditional costume and fashion house Grasegger. I'm not expected to wear lederhosen and I'm sure the Grasegger team will find something fitting for me. We'll see!
L.L./ What projects do you have coming up?
M.G./ A couple of things we'll have to deal with in the near future are the renovation of the Tourist Information Centre, making the Olympic stadium accessible to tourists and a little further down the road also the congress hall of Garmisch-Partenkirchen. In the first year it'll be all about agreeing on a strategy and also the question of whether we'll decide on that strategy on our own or through some sort of participatory process. Then we'll take care of digitalisation. I feel like something needs to happen and that visible results are necessary and that I will not be measured by the number of pages the concept has but by tangible results. And what it needs here is a holistic approach, not hectic action, but well-thought-out decisions with all their consequences.
---
Share Article