Snow paradise for families
Stunning weather and activities like skiing, tobogganing, or winter hiking await snow-loving families all around the glacier ski resort Zugspitze, the Garmisch-Classic area, and Panoramic Mount Wank. The modern infrastructure includes skiing schools and rental stations, guaranteeing smooth days; magic carpet, drag and chair lifts, cableways as well as a cog railway ensure effortless ascents. And the comfortable Zugspitze cableway with its floor-level glazing takes guests up to Germany's highest peak in ten panoramic minutes. And at the same time the aerial tramway sets three new technical world records.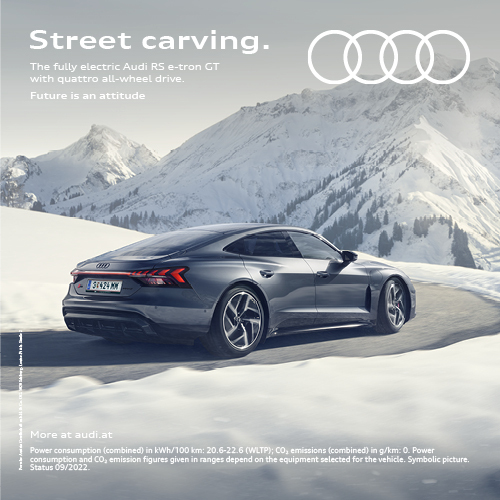 A day trip to the areas of Zugspitze, Garmisch-Classic, and Wank is perfect for families. Munich is close by, excellent connections via the motorway and the railway network ensure fast and comfortable journeys – and many breathtaking views.
Zugspitze
Germany's highest-situated glacier skiing resort is now easily accessible with almost no waiting time via the two new cable car cabins that hold 120 people each. The summit of Zugspitze impresses with a stunning 360° view and on clear days more than 400 peaks in Germany, Austria, Italy, and Switzerland can be admired. Together with the almost 90-year-old cog railway and the glacier railway the ride up to Zugspitze can be made into a circular route. The infrastructure throughout the ski resort ensures effortless climbs and the wide and perfectly groomed slopes smoothly take you downhill; levels of difficulty are low or medium.
Another highlight in the snow is the sled which, along with a helmet, can be rented at Zugspitze ski rental. The area has a family tobogganing run for beginners and children as well as three slopes for advanced riders as well as three chair lifts. The circular route around Sonnalpin is perfect for a winter hike, the glacier restaurant is the ideal place for a break and it offers panoramic views and a children's menu. The restaurant Panorama 2962 was opened in 2018 and offers highest-quality summit indulgence. Inside the summit station of the new cableway guests of Zugspitze can try dishes from Germany, Italy, Austria, and Switzerland. Germany's highest-situated igloo village is full of adventure. Families can enjoy a hot drink, explore Inuit culture, and admire ice sculptures. The igloo bar is open daily from 11am to 3.30pm.
Garmisch-Classic
The neighbouring ski resort Garmisch-Classic is also perfect for winter sports loving families. Numerous ski lifts ensure a fast and comfortable ascent. Skiing schools and rental shops guarantee short distances and convenience. Skiing newbies will love Hausberg because of its ideal conditions and beginner-friendly slopes. At the children's area little skiers and beginners can learn the basics of skiing from professionals. Different elements like bumps and archways improve technique and increase pleasure. The new stands are perfect for parents who'd like to admire their offspring.
All those who consider themselves impervious to fear of heights AlpspiX is the perfect spot. Two 25-metre steel beams form a floating X. At its glazed end only the most courageous will dare to look down 1,000 metres into the abyss, from the eagle's perspective. The view of the snow-covered rock formations of Zugspitze and Alpspitz north face are quite impressive, too.
Wank
Panoramic Mount Wank stands for a thoroughly gentle mountain experience. Families can enjoy nature far off the busy slopes. During the Christmas and Carnival holiday periods the Wank mountain railway takes visitors up into the quiet and sunny winter paradise above Garmisch-Partenkirchen. Around the summit station many family-friendly winter activities beckon: the snow-covered mountains can be explored during a winter hike or a toboggan ride can add some speed. When there is enough snow the sleds even go from the summit station of the former summit lift down into the valley towards Rosswank.
Tips for your journey, mountain railway tickets & restaurants:
• Get here easily and comfortably by car or train
• Kids under 6 years of age ride for free (in the company of their parents)
• Family ticket: show your ID and get a discount for parents with kids aged 6 to 18 (valid for all three areas: Zugspitze, Garmisch-Classic, Wank)
• Kinderland-Ticket: Includes the use of the Hausbergbahn and Kinderland, perfect for parents who don't ski
• Many mountain railways offer tickets for pedestrians in winter, too
Restaurant tips:
• Garmisch-Classic: Drehmöser 9 with special children's menus
• Zugspitze: New summit restaurants at Panorama 2962
ABOUT BAYERISCHE ZUGSPITZBAHN BERGBAHN AG

The mountain railway company Bayerische Zugspitzbahn makes the mountainous landscape around Germany's highest peak accessible for everyone. The vicinity to Munich and the fact that it's easily accessible by car or train make Zugspitze, the Garmisch-Classic area, and the Panoramic Mount Wank attractive destinations. As a modern service provider that runs a total of 27 mountain railways and ski lifts as well as seven restaurants it takes summitteers up to just under 3,000 altitude metres.

Lovers of all kinds of winter sports can look forward to two ski resorts with a total of 60 slope kilometres and all levels of difficulty. Pros can venture onto the legendary Kandahar slope. Newbies can look forward to beginner-friendly slopes, and children to Kinderland on Hausberg. In summer hikers, day trippers, families with children, and seniors will all find exactly what they're looking for. No matter if it's high-alpine mountain tours, hikes of all levels of difficulty, or a trip to the spectacular viewing platform AlpspiX: all around Zugspitze summitteers young and old can always admire breathtaking views.
For more information, visit:
www.zugspitze.de

---
Share Article