Sport meets fashion
Best equipped for perfectly prepared slopes
Snow, sun, fun. Isn't winter just wonderful? Exercising in Lech Zürs am Arlberg means adrenaline, passion, and peace of mind at the same time. Fresh air, stunning views, and the best conditions – how could one possibly resist the urge to strap on skis, snowboard, or snow shoes and wedel down the snow-covered slopes?!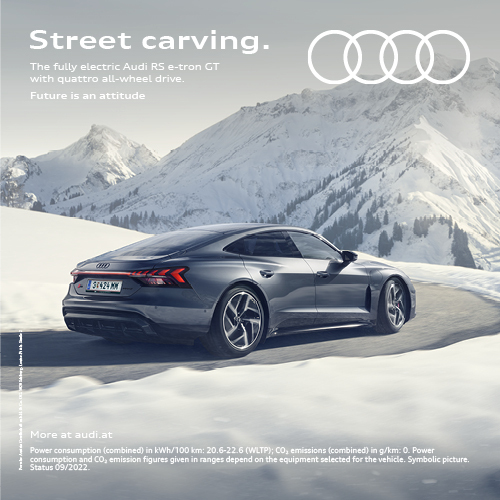 Since 2017 the shops of Intersport Arlberg in Lech right by Schlosskopfbahn and as of this year also at Sporthaus Lech in Haus Pfefferkorn and right by Rüfikopfbahn are the place to find everything you need for you mountain sports – from gear to clothing to the right shoes. Everything the passionate athlete's heart might desire. The team around Paul Pangratz – junior manager of Sport Pangratz & Ess GmbH – chooses authentic and innovative brands that guarantee uncompromising performance because that's what skiing in the snow-covered winter landscape is like today. Paired with his staff's necessary specialist know-how you can conquer the powder slopes – while always respecting nature, of course.
The right gear for a perfect day of winter sports
100% sports, that is and will always be the motto at Intersport Arlberg – to make sure every active holidaymaker's needs are met! Each of the three shops in Lech is equipped with the latest technology, such as a 3D foot scanner for the perfect choice of shoe or the innovative guidance system for the rental process which guarantees stress-free rental or return. All-new in Lech is the sizefit-rental system. That annoying process of taking the boots off again to adjust the bindings is now a thing of the past!
The latest technology for the highest level of customer satisfaction. Speaking of rental, it's available in all three shops. Aside from the nifty extra of the Intersport online booking which ensures an even faster process, the network of nine Intersport Arlberg network shops – from Lech to St. Christoph to St. Anton is also worth mentioning because it means customers who run into problems or need an adjustment always have someone to turn to. With the NEW superior class you always get brand-new rental skis that have been used for a maximum of 12 days. With excellent gear like that the day on the slopes can only be a success!
INTERSPORT ARLBERG SCHLOSSKOPFBAHN
Dorf 256, 6764 Lech am Arlberg
+43 5583 / 3093 4410
schlosskopfbahn@intersport-arlberg.at
www.intersport-arlberg.com

Opening hours:
Daily 8.30 am – 6 pm


INTERSPORT ARLBERG RÜFIKOPFBAHN
Dorf 138, 6764 Lech am Arlberg
+43 5583 / 3093 4420
ruefikopfbahn@intersport-arlberg.at
www.intersport-arlberg.at

Opening hours:
Daily 8.30 am – 6 pm


INTERSPORT ARLBERG SPORTHAUS LECH
Dorf 180, 6764 Lech am Arlberg
+43 5583 / 3093 4400
lech@intersport-arlberg.at
www.intersport-arlberg.com

Opening hours:
Sun – Fri 8.30 am – 7 pm
Sat 8.30 am – 8 pm


Technological innovations, design, high performance, and first-class service – that's what Intersport Arlberg in Lech is all about.

Locals and guests alike appreciate the large product range, the top brands, and competent service. The comprehensive selection offers the latest from the world of winter sports for skiers, snowboarders, and all those who enjoy the cool lifestyle on fresh snow.

Each of the three shops is focused on a certain segment to make sure no wish remains unfulfilled. The Intersport Arlberg Shop Schlosskopfbahn is all about the young freeride brands, while Intersport Arlberg Sporthaus Lech at Haus Pfefferkorn focuses on athletic and premium brands. The recently built Intersport Arlberg Shop Rüfikopfbahn is all about rental and all the bits and pieces every athlete needs for their winter experience, such as ski goggles, hats, gloves, and much more.
---
Share Article