Stylish work
A talk with Christian Sturmayr
For 101 years the name Sturmayr has been standing for highest-quality hairstyling. What started out at a small hairdressers' shop in Seekirchen am Wallersee has grown to be an industry leader with salons in four provinces. And one person who has made a significant contribution to this success, is Christian Sturmayr. In his interview with La Loupe the 35-year-old told us how hairstyles in general and the job of a hairdresser in particular have changed and why it's time to say goodbye to the term "practical hairstyle".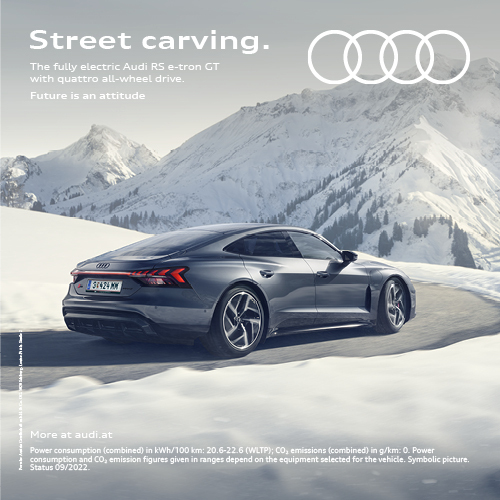 L.L. / Mr. Sturmayr, for hairdressers giving customers the right advice is key. What's you usual approach here?
C.S./ Most of my clients are regulars. But when I get a new client I try to get all the information I need – i.e. what the client wants – as quickly and comprehensively as possible. Getting a good feel for the customers is what counts here. We are a service provider and so our customers' happiness is paramount. In the next step I try to provide the customer with professional advice and tell them what I think would work best for them.
"In the German-speaking region you often hear: I'd like a practical hairstyle."
L.L./ Do customers sometimes want the impossible?
C.S./ Yes, absolutely. And the reasons for this are varied. Sometimes the circumstances simply don't work and the customers usually get that. But, as far as wishes and ideas are concerned, the German-speaking region is rather special for my profession. There's one thing you hear quite often: I'd like a practical hairstyle. And when you look at other countries – no matter which, really – you virtually never hear that. We don't walk around the streets in sweatpants simply because they're practical. I think that the effect that a person with a beautiful, well-groomed hairstyle has can certainly be influenced.
"Nowadays a trip to the hairdressers' should have a certain wow factor."
L.L./ Would you say the job has become more difficult, particularly with respect to social media and their influence?
C.S./ I actually think it's become easier. The clients usually know what they want. And what's important is to provide the kind of advice that's tailored to the customer in question. It's important to say whether that cut or colour from the instagram post can be realised, how it can be done and what kind of effort it takes. What people often forget is that the main part of a haircut's cost is due to staff costs. The job of hairdresser is a craft and that has its price. When I go to the hairdresser's I pay for someone to make time just for me.
L.L./ Do you have tips for people who want to always look well-groomed, even if they've not managed to see a hairdresser?
C.S./ Honestly, I find that difficult to do. For me not going to the hairdressers' regularly is like not brushing one's teeth regularly. It's an ideology – you should feel like you're worth it, like you deserve to look groomed and thus present yourself with self confidence. But, to return to your question: well-nourished hair is decisive. One should apply a hair pack once a week, use conditioner after every wash. Shampoo is only there to clean, not to nourish.
"We don't run around in sweat pants all day simply because they're practical, do we?"
L.L./ You travel quite a bit. What is it that makes trends suitable for everyday life?
C.S./ That's hard to say because trends have many facets. When talking to a client you quickly notice just how open they are. Following my own personal philosophy I don't usually pick a radical solution. So, I don't just cut off very long hair. Unless that's the client's express wish. Most of the time I get there step by step though. What counts for me, as a hairdresser, is that the moment a client walks into my salon I can already see the result in front of my mind's eye and at the same time I think about how I might get the client there – to their personal, tailored result.
L.L./ Would you say that age plays a role here?
C.S./ I have clients in their 70s who are incredibly open and have a modern attitude. And I have super conservative 20-year-olds. I really think one should avoid stereotyped thinking like that. The bandwidth really is huge. And I like to think in facets. That's the beauty of it, right?
"I don't usually do radical solutions."
L.L./ And what's the perfect ladies' hairstyle at the Salzburg Festival?
C.S./ At the Festival you see stunning gowns and the finest jewellery. But when it comes to hairstyles I'd say there still is room for improvement. Generally there are many options when it comes to Festival hair, only super strict styles are no longer worn. Everything has become more soft and feminine. We like to style the ladies' hair so that they can wear it already while they're having a relaxed bite to eat at the lake and shine at the Festival after.
STURMAYR COIFFEURE
Hanuschplatz 1, 5020 Salzburg
+43 662 / 8422 11
sturmayr@sturmayr.at
www.sturmayr.at

STURMAYR COIFFEURE
Rudolfskai | Makartplatz | Alpenstrasse Wals | Europark | Eugendorf Bad Vigaun | Altenmarkt
Christian Sturmayr and his father Fred Sturmayr run Sturmayr Coiffeure together. The company is represented in four provinces – in Vienna, Upper Austria, Tyrol, and Salzburg. Sturmayr Coiffeure was founded in 1918 as a small salon in Seekirchen in Salzburg's Flachgau region. In the past seven years Christian Sturmayr has worked at Fashion Weeks in London, Paris, New York, Milan, and Berlin where he was active in more than 300 haute couture shows by international designers. Born and raised in Salzburg he has styled stars like Paris Hilton, Liz Hurley, or Katy Perry and when renowned events like the Opera Ball or Life Ball come up he is always fully booked.
---
Share Article
---
Salzburg