Tradition and hospitality
Interview with Klaus Plank, host at Gasthof Hotel Weisses Rössl Innsbruck
The Weisses Rössl's history dates back to the early modern time: In this traditional inn at the heart of Innsbruck's old town, guests have been enjoying culinary delights since the 16th century. Today and back then only the best ingredients landed on the beautifully presented plates. The comfy parlours and the unique terrace, surrounded by historic buildings, are the perfect and most authentic setting to enjoy real Tyrolean delicacies. In his interview with La Loupe, host and chef Horst Plank provided insight into the 100-year family history of Weisses Rössl and he told us what's new on the hotel's ground floor.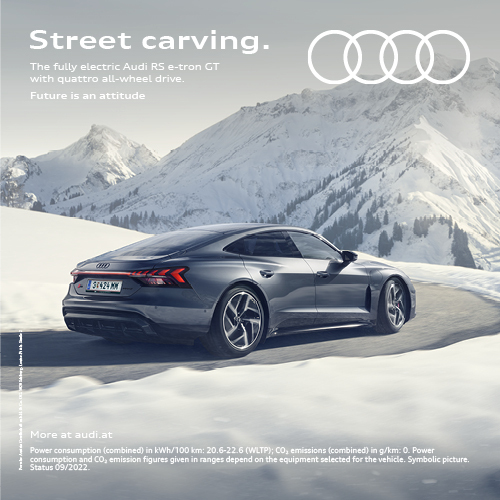 "The way I see it the key to good food is time and love."
L.L./ At Gasthaus Weisses Rössl traditional fare and Tyrolean specialties meet modern cuisine. How can we picture that? Do you reinvent tradition?
K.P./ No, I do not reinvent tradition. We try to conserve classics as much as possible, which may not always be easy. Many things have changed over time, particularly when you look at products and their origin and the preparation methods that are used. The classic open fire has disappeared from the kitchens and has been replaced with modern devices. From my perspective, I'd say that the key to good food is time and love – if that's all set it doesn't really matter if you cook on a gas stove or an induction stove. We try to prepare our dishes in as original a way as possible which is why we serve typical, regional dishes like the Tyrolean Gröstl (a dish made up of roast potatoes, onions and meat, often topped off with a fried egg). So, it may be that the dishes and glasses are quite different but the product is still very traditional.
"We have specialised in making different Gröstl variations."
L.L./ Where do you buy your products and what aspects are particularly important to you when you buy?
K.P./ The best thing for me would be to be able to exclusively source regionally. That's something we definitely focus on, but it's not always possible. In general, I think one should be patient until the point when a product actually grows here. Particularly when it's about asparagus or mushrooms – they really are worth the wait. We have local suppliers of produce, we regularly go to the market and buy from Tyrolean butchers. I try not to exceed a certain radius, not just when I buy food but when I buy beverages, too. Most of our wine is from Austria. Because of our vicinity to Italy we also offer wines from South Tyrol. We only complement our offer with a few select international products.
"At the moment it's my goal to make the best traditional Tyrolean fare."
L.L./ Viennese Schnitzel, Zwiebelrostbraten (beef roast with onions) and lamb knuckle – is there a specialty one has to try at your inn?
K.P./ We are specialised in different varieties of Gröstl. It's a dish that is very popular with locals and with tourists who are looking for a typical Tyrolean dish. It's easy to adapt to the season. Asparagus, mushroom or game Gröstl – everything is possible. Unfortunately though, there are many restaurants that serve Gröstl and as a result the dish's image has suffered. Which is why I think it is important to try and vary this traditional dish and try and revive it with interesting new versions. At the moment it is my goal to make the best traditional Tyrolean fare.
K.P./ A good Viennese Schnitzel and a juicy Zwiebelrostbraten are important elements of our menu, too. We prepare the dishes using traditional recipes, which is why some may have a little more fat than what we're used to – simply because back then that was the norm. If you explain this to your guests they usually react in a very positive manner.
"Our clientele is generally very varied, we've got construction workers right next to doctors."
L.L./ Weisses Rössl is located in the midst of all the main tourist attractions in Innbruck's old town. Are your guests mostly tourist or are there locals, too, who swear by the Weisses Rössl's good cuisine?
/ It's in the mix, I'd say. Although I do focus on the locals a lot. Many regulars come from Tyrol, Bavaria and South Tyrol. Many locals and hotels recommend Weisses Rössl to guests from all over the world. Which is something we're very happy about, of course. The clientele is varied, we've got construction workers right next to doctors. That's what defines a good inn, really.
"I never lost touch with my home."
L.L./ In Geneva you occupied yourself with French cuisine, you worked in Australia and were trained under one of the first Austrian chefs to receive three Gault Millau 'toques', Karl Eschlböck. Sounds like you get around. Why is it that you came back to work in your native region anyway?
K.P./ These experiences were a great privilege for me. On the one hand my parents' business gave me a place for my training and on the other a place where I could sow my wild oats, as my father would always say. I enjoyed working and living in different countries, this way I got a chance to get to know the culture and language. Aside from that the stays abroad gave me the opportunity to work in different areas of hospitality: In summer I would often work in the kitchen, in winter at the bar. My great advantage was that I always knew I could go home at any point. And since I only ever went away for 6-month intervals I never lost touch with my home.
L.L./ Do you still get wanderlust today?
K.P./ No, not really. It was my choice to stay at Weisses Rössl and I wanted to accomplish something here. Particularly when you get married and have children your priorities are bound to change. Consequently, the question really doesn't come up any more and I don't want to go anywhere either.
"The Plank family has been the host family at Weisses Rössl for almost 100 years."
Klaus Plank
L.L./ Your family has been running the hotel and inn for a long time. Your parents, your grandparents and great-grandparents worked here. Tell us a little about the Weisses Rössl's family history.
K.P./ I am the fourth generation to run the business; and the Plank family has been the host family here for almost 100 years. My great-grandfather owned the house and back then he also owned seven other businesses in Innsbruck – which was quite usual at the time. He then sold Weisses Rössl to his wine dealer. It was his goal to finance the purchase of something bigger with the sale. Unfortunately, that did not work out so well and as time passed he lost the one or the other business because times got worse for him. My grandfather then got the opportunity to lease the Weisses Rössl and he ran it together with his wife. In 1982 they were finally able to buy it back and I took it over from the family estate.
"Hospitality definitely is our USP."
L.L./ At the moment you're setting up a coffee and wine bar on your ground floor. What's the concept behind this new project?
K.P./ The Weisses Rössl was part of the so called 'Four-Beasts-Corner' which was made up of four inns: the Goldener Löwe (golden lion), the Roter Alder (red eagle), the Goldener Hirsch (golden stag) and the Weisses Rössl (white horse). Our business is the only one that has endured as a classic inn. And it is traditional for this area that the inn should be on the first floor. When the area on the ground floor which used to be an antiques shop became available we saw the opportunity to become more visible to the outside. We wanted a ground-floor entrance and to move the reception area downstairs.
K.P./ However, we wanted to preserve the old structures, and especially because of the comfy atmosphere with brick walls and vaulted ceilings a wine cellar seemed appropriate. And add to that my passion for coffee. So, our idea was to complement the restaurant and open a wine and coffee bar. It has always been our goal to have an open house and because of the new rooms the Weisses Rössl is more visible for the guest.
K.P./ I want to make sure our guests are well taken care of all through the day. They can enjoy a croissant and an espresso in the mornings, in the evenings there are the Tyrolean classics. The plan is to offer warm and cold snacks in the new bar, too. Of course, we want to keep it traditional there too – and we'll focus on Austrian wines.
"What's important to me is that everybody feels at home and that the price-performance ratio is right, too."
L.L./ You and your kitchen are represented in the cookbook 'Griaß enk! Tiroler Haubenküche.'* In this book eleven great chefs explain their personal interpretations of Tyrol's regional cuisine. What is your take on Tyrol's high-class cuisine today?
*Cheerio! Award-winning Tyrolean Cuisine.
K.P./ There are many great inns and quite a few outstanding chefs. What's important is to remain authentic. I am a friend of 'waste-food-cooking' which is why it's difficult for me to throw away food for aesthetic reasons. Of course, we also need diversity, though, from the hot-dog snack stand, to the inn, to award-winning fine cuisine. In terms of culinary offers, Tyrol and Austria have a pretty good stand, and our hospitality definitely is our USP.
L.L./ In your profession as chef – would you see yourself as one of the 'young wild ones'?
K.P./ Honestly, I wouldn't. I am more tending towards calmness and a certain down-to-earth attitude. I like doing things differently and I don't follow every trend. What's important is that one feels at home, that the quality and the price-performance ratio are right.
"I feel like my children make me more calm."
L.L./ Do you still cook a lot yourself?
K.P./ Well since there is more and more bureaucracy I do not get to cook all that much anymore, unfortunately. I would really love to, but I hardly have the time.
L.L./ You are a passionate skier. Would you say that's your personal way of balancing the hectic everyday life in hospitality?
K.P./ Being on the slopes is a lot of fun, especially with the kids. I love spending time with my offspring; they learn a lot and they help me relax. I have the feeling that my children make me more calm. Whenever I have the time I spend time with them and I watch them pursue their hobbies: Ski races and ice-hockey are very popular. They are ten, seven, five years and a-year-and-a-half old – so I'll be quite busy for a few more years.
Wordrap
Klaus Plank
Klaus Plank is the fourth generation to be in charge of the family-run business Weisses Rössl in Innsbruck's old town – the historic building houses an inn and a hotel. The trained chef gained experience all over the world and today he serves hearty Tyrolean specialties. In autumn of 2016, a wine and coffee bar is opened on the ground floor of Weisses Rössl. Delicious coffees and excellent Austrian wines will complement the inn's offer.
---
Share Article