When shopping becomes an experience
Interview with Hans Conrad, manager at Sport Conrad
One of Europe's largest winter sports and outdoor gear dealer can look back on a success story of more than 120 years: Sport Conrad. What stands behind the concentrated skiing and mountaineering competence is a real family business that employs 170 passionate staff today. Aside from the shops in Penzberg, Murnau, Wielenbach, and Garmisch-Partenkirchen, there is the successful online shop where customers from all over the world shop. La Loupe spoke to Hans Conrad about the company's foundation as a shoemaker's shop in 1897, about the advantages and disadvantages of the online business, and new trend sports.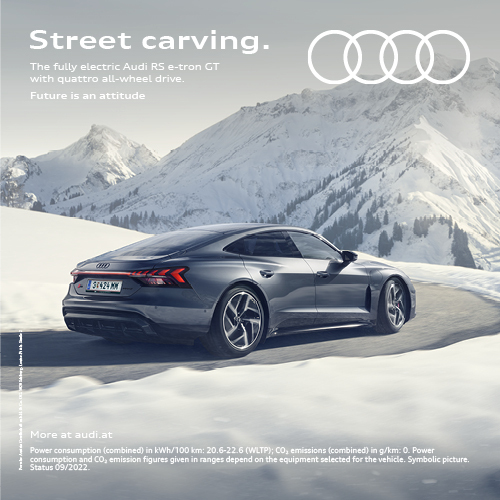 L.L./ This year Sport Conrad celebrates its 120th anniversary. How did it all begin?
H.C./ It all started with my great-grandfather, a master shoemaker in Penzberg – which is also where the Sport Conrad headquarters which we refurbished just last year is located. Later my grandfather ran a proper retail shoe shop and in the 1950s my father started selling skis – a product we still fell deeply connected with. Of course, everything used to be much smaller, the shoe shop had less than 100 square metres, the ski shop about 150. Which is why the bindings had to be mounted in the cellar and the skis were transported up and down via a hatch. I was a young boy back then and I still remember helping out on the weekends.
"It all started with my great-grandfather, a master shoemaker in Penzberg."
"The family has always been into mountaineering and skiing."
L.L./ Only in the 1970s did the trend towards hiking tourism pick up and the demand for the right gear increased. Sport Conrad saw this development – which was a courageous step at the time. How exactly does the company's pioneering spirit stand out?
H.C./ When the topic came up, the choice was still very limited. Very few companies were ready to deal with mountaineering and hiking. We still have close connections to these companies, one of them is Schöffel, for example. Those were exciting times, everything was new.
H.C./ In 1983, we as a family flew to Nepal where we did a six-week trekking tour. Only after that did the outdoor-sports segment in the company really pick up. All of a sudden, we were selling American brands like The North Face and Patagonia; brands that had been unknown here until then and that changed the market significantly.
L.L./ Was there even demand back then?
H.C./ At that time everything looked very similar, there were just a lot of navy jackets made from heavy cotton. Then we started stocking a few red Gore-Tex jackets from Schöffel. And with Patagonia we brought more bright colours into the shop. In retrospect, these companies strongly shaped the market for mountaineering, climbing, and all things outdoor.
"You really feel the passion for it in everyone, from great-grandchildren to great-grandfather."
L.L./ The Conrad family is very athletic. How important is personal experience with different kinds of sports in the shop?
H.C./ Very important, of course. My grandfather was an avid climber and so was my father. We've done many trekking tours together as a family, to places all over the world. My family has always been into mountaineering and skiing. My father is 82 years old and still an avid skier and he's lucky his health still allows it.
H.C./ Last year we organised a family ski day and it was amazing to watch three-year-olds ski together with their 82-year-old great-grandfather. You can feel the passion in everyone, from the great-grandchildren to the great-grandfather. And that has always been the reason why the family specialised in skiing and ski touring and everything else came on top of that.
"We want to provide our customers with the best possible and authentic advice."
L.L./ The company is family-owned in the 4th generation. Where in the business does the family cohesion show in particular?
H.C./ I took over management together with my sister. But my father still is active in the business, as is my wife. This makes for a special component, there is a lot of passion and personal commitment in the business. With us it's not just about figures, it's about this passion. Last year we refurbished our headquarters in Penzberg and many dealers said: "You're doing really well online, why would you invest so much in your shop in Penzberg, a town with 15,000 inhabitants?" Well – it is important for us to conserve the location for the next generation.
H.C./ Our staff also feel that they work with the family. Many employees have been with us for a long time and now they basically are part of the family. I even grew up with many of them. It is also thanks to our staff that customers feel that the family stands behind Sport Conrad. There is no pressure to deliver certain figures, no sales commission. We want to make sure our customers are taken care of as well and as authentically as possible.
"Here in Garmisch-Partenkirchen we always were a few steps ahead."
L.L./ 120 years of Sport Conrad, that's a long time – how important was it to take the leap into modern times?
H.C./ We took that step with our very early entry into the online market in 1999. It forced us into modern times because it made our business very international. A great part of our customers comes from Scandinavia, France, and even the USA. The online customers always were quite demanding, more so than the customers in the shop. We always had an international focus and wanted to cater to these customers' needs. Which is why we adapted the product range at times when the trends weren't yet visible in Germany, such as free-skiing or telemark skiing. As a consequence, we here in Garmisch-Partenkirchen were always a few steps ahead.
"Personal advice still is at the core of our business."
L.L./ You mentioned earlier that you opened your online shop very early on. What did the online shop look like in the beginning?
H.C./ In the beginning it really was nothing more than an Excel table with our products which could be ordered via telephone or fax. In the first year, we would get maybe five orders a month. But we noticed quickly that the online shop had great potential:
H.C./ Back then Völkl sold a wide freeride ski that was selling badly here in Germany. Völkl came to me and asked me if I'd like to sell the remain 150 pairs. I agreed and put the ski online. The next day there was a huge heap of paper piled up under the fax machine – which is how all the orders were placed back then – all of them from America. Turns out the operator of a well-known American Website had discovered the ski and given the readers the tip to order in our online shop. We sold the entire stock of these skis in one night. And that made us understand the possible scope of the online shop. Consequently we immediately started running the online shop in two languages.
L.L./ A lot has changed since the beginnings of the online business. The internet has changed and become more important for the retail sector. How do you run your online shop today?
H.C./ Meanwhile we employ 15 people in our e-commerce department that take care of the online shop – specialists from all sorts of sectors. Of course, sometimes it would be nice to go back to the good old times because today everything is hectic and everything happens at the same time. There used to be quiet times for retail, with the online business those times are long past. At the moment half of our sales are made in the shops and half in the online shop. Which is quite a lot, seeing as we're originally a stationary retail business.
H.C./ The online merchandise is stored in a separate, 3,500-square metre storage facility near Penzberg. Our customers can have the products delivered to one of the shops where they can get advice in person. And the other way round our customers from the shops can have the products delivered to their home. We have simply united the two business models.
"We really have a locational advantage here."
L.L./ More and more people order goods online. How important is personal advice today?
H.C./ Personal advice still lies at the core of our business. Our sales staff can give customers authentic advice on ski tours, they really know a lot about the sport because the practise it themselves. That's the aspiration we have. We want our customers to enjoy our products and to be happy about the equipment they bought.
H.C./ Of course, the online business grows faster than the stationary trade. That does mean, however, that a part of the high-quality advice we give is lost, even if the customers don't feel that way. Sometimes we're sad to see that customers put together a ski set or a ski touring set online where we know the combination isn't ideal. In such cases our staff and customers service will often get active and contact the customers. And I must say, good advice in the shops is incredibly valuable, and that's something no online shop can offer – not even the chat.
L.L./ Do you buy online?
H.C./ I maybe buy things online once a year, usually because I have no other choice since the product isn't available anywhere in town. Most of the time though I'm a bad online shopper, I just like going to shops and looking at the products in person. I miss that experience online.
L.L./ Sport Conrad is specialised in winter sports and mountaineering, and there are trend sports here, too. How do you decide which kinds of sports to include in the product range?
H.C./ Since we are located in beautiful Garmisch-Partenkirchen we get to see up close what trends come up in the area of mountaineering and skiing. Our location really is an advantage and we see very soon if something becomes a trend sport.
H.C./ Trends that don't work in our surroundings will not become part of our product range. We focus on the trends that people here like and sports that can be practised here, such as trail running, mountain biking, or ski touring.
L.L./ Sport Conrad is present at test events in the region. What is it that makes those events so important?
H.C./ We have several big test events each year. There's the AlpenTestival in Garmisch-Partenkirchen and the Alpin Tiefschneetage (= powder days) twice a year which we initiated 14 years ago, in cooperation with Alpin magazine. These events are very important for us because the end consumers are right there and we can watch them practise their sport during the event. In the morning, they'll try out a via ferrata climbing set, in the afternoon an e-bike, and in between they can try kayaking. The programme is varied and the customers gets to share both positive and negative experiences with us right away. Our team really enjoys these kinds of events and it's great to see the happy testers come back to us. Of course, Garmisch-Partenkirchen is an ideal location for these kinds of events and they've proven to be successful. The atmosphere at AlpenTestival is great and very relaxed.
H.C./ And the test events motivate us, the numbers of visitors increase, and it really is nice to work out of doors. The contact with the customers is great fun and we like to provide them with our own insider tips for the region.
"On the occasion of the 120th anniversary the customers can look forward to a varied programme."
L.L./ You celebrate your 120th anniversary this year – will there be festivities? And are there any future changes to look forward to?
H.C./ There are changes all the time. We just refurbished our Peak Performance shop. And the lighting was renewed, we completely switched to LEDs. The online shop is given a makeover every six months anyway because of technological changes.
H.C./ On the occasion of the 120th anniversary the customers can look forward to a varied programme from October to December. There will be small and large events, we'll have famous athletes come and visit. We also raffle great trips and lure customers in with great offers. All the information will be on our website as of the end of September. We'll also publish an anniversary newspaper at the end of September. So, our next goal is to successfully organise this big event and then we'll take care of everything else.
Wordrap mit Hans Conrad
This type of sports keeps me fit: Ski tours. Even before work.
Alpine skiing or ski tours? Ski tours.
I'd advise people looking to open a business to…go about it with the utmost passion.
Online or offline? Offline.
My backpack…is what I need whenever I venture into the mountains.
Garmisch-Partenkirchen in three words: loveable, sometimes a bit odd, my home.
Hans Conrad
Hans Conrad has been manager of Sport Conrad for more than 20 years. The 54-year-old has two children, he and his long-time partner live in Garmisch-Partenkirchen.
Opening hours:
Mon Fri 9:30am - 7pm
Sat 9:30am - 6pm

---
Share Article