A hotel for kids aged 21 and over
Interview with Josef Schwaiger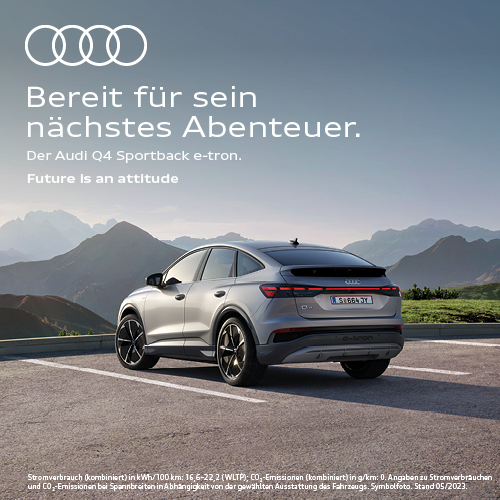 During this interview Josef Schwaiger from Boutique-Hotel SEPP and Benjamin Skardarasy did not just meet as former colleagues from university but also as two people who feel it is their calling to upend old traditions. What stands out right away is the silver caravan on the roof. Then the swing sets on the balconies, the display windows on the corridors to the guest rooms and the tree in the atrium. By now one thing is clear: boutique hotel SEPP in Maria Alm is extraordinary. Exceptional. Or, better still: exSEPPtional. Architect and name giver Josef "Sepp" Schwaiger found his creative playground here and in doing so created a space for special encounters. Only recently the hotel celebrated its first birthday with a truly fabulous party – in the refurbished, loft-like attic, of course, the house's very heart. And this is also where the hotelier's La Loupe interview took place.
"Our concept was that we had no concept."
L.L./ Concept hotels are quite the trend right now. How did you find your concept?
J.S./ Our concept was that we didn't have a concept. Originally the plan was to build a house for staff which was also supposed to be a budget hotel. But then we quickly realised that it's no good to mix guests and staff. Which is why it became just a hotel and during the concept phase it took on a completely different form. Our passion for great materials – real wood, real stone, beautiful floors, lots of glass – had a huge impact here. It's a boutique hotel for growups over 21 years. Which differentiates us from Hotel Eder on the village square which is a lifestyle family hotel. And the reason why it turned into something so extraordinary and creative is that the original plan envisioned something entirely different.
"The reason why it turned out quite so creative is that it was originally meant to be something entirely different."
L.L./ The extraordinary requires skill. What are the areas where the SEPP impresses the most?
J.S./ Our rich breakfast is our trump. With amazing products, great coffee, excellent service – and much longer than in other places because we serve brunch until 1pm. Guests are so stressed out in their daily lives and they're always under time pressure. Here they get to relax, sleep in, and enjoy a leisurely breakfast. Some guests get some work done in the mornings. Others use the early morning to hike up a mountain and come back at noon to enjoy a relaxed breakfast and the sun terrace, the pool, or the sauna.
"We literally stop at nothing."
L.L./ Lobby and restaurant are located in the attic. That seems a bit unusual, too ...
J.S./ We didn't want to turn the attic into a suite for two people, we wanted to make it accessible for everyone. It's a space for guests and staff, you're at the centre of everything here, you've arrived and you have a great view of the village and the mountain range "Steinernes Meer". And so far it still is an insider tip.
"Our house is not supposed to be just an inanimate object, it's supposed to be a place that's alive and where new things happen all the time."
L.L./ What other houses aside from the SEPP are part of the Eder Collection and how do we get there?
J.S./ Hotel Eder on the village square is a five-minute walk from SEPP. Right behind it is the cable car which will take you up to Tom Almhütte at the summit station at 1,200 altitude metres which is managed by my brother. It takes about 45 to 50 minutes to walk there. From up there the view of Kitzbüheler Horn is just stunning. The hut faces south and it also is quite the architectural highlight. I think calling it a "hut" is actually a bit of an understatement, it's more of a lifestyle mountain restaurant for up to 300 people.
"We've had guests stay with us six times in a single year. And one time a lady stayed for four weeks straight."
L.L./ From the classic car tour "SEPP Classics" all the way to team building sessions: there are quite a lot of events that take place at the SEPP. Where do you get your ideas?
J.S./ We just stop at nothing. Our house is not supposed to be an inanimate object, it's supposed to be a space that's alive and where there's something happening all the time. With our micro-events we are trying to attract guests who don't ski. These include vernissages, photo exhibitions, or cooking courses. On top of that we get names like the wine maker Leo Hillinger or NENI chef Haya Molcho to come here. And we get classic car fans like the Porsche Club, the FC Nürnberg likes it here, too, and Red Bull hosts business events. We have guest who've been with us six times in a single year. One lady spent four weeks straight at our hotel.
"I've always found swings fascinating because they're such a childlike and simple element. Every grown-up likes to remember them."
L.L./ The hotel is named after you. How much of your personality has flown into the SEPP?
J.S./ A lot. We spent a long time thinking about the name and in the end we decided on the most obvious choice. We just wanted the place to be simple and personal. I studied architecure and the SEPP is one hundred percent my work – from balcony railing to underground parking, to the fittings in the showers which we have often recommended to others. There is a leather couch for 15 people in front of the fireplace which was custom-made for us by the leather pants maker Meindl.
"We like to say that the SEPP is a hotel for adults and children over 21."
L.L./ Swings on the balconies and rooms with display windows: for a grown-up hotel the SEPP seems rather playful ...
J.S./ I've always been fascinated by swings, they're such a childlike and simple element. Every grown-up likes to remember swings. The display windows in the hallways outside the guest rooms are intended for storing expensive bikes and presenting them at the same time. The same goes for skis, an expensive Bogner jacket, a soccer jersey or just a bra. It's a way of making a statement and lending the room some personality instead of it just being a number. Our guests strike up conversations in the hallways. We always like to say that the SEPP is a hotel for adults and kids over 21. Work life is hard enough. There's not need to have more of that while on holiday.
Inside story
The alpine boutique hotel SEPP in Maria Alm was opened in September of 2018 and it combines extraordinary architecture, design, and inventive events. Following the motto "together and right at the centre" different worlds meet here: old and new, tradition and zeitgeist, luxury and nonchalance. Breakfast is served in the attic until 1pm, micro events and themed weekends bring people together. During construction the modern part of the house was draped like a Christo work. On the drapery it said: "It's gonna be exSEPPtional" which was a great way to get everyone excited. Today the brand Eder Collection encompasses hotel SEPP, hotel Eder, and Tom Almhütte.
---
Share Article
---
Salzburg