That gut instinct
A talk with Andreas Döllerer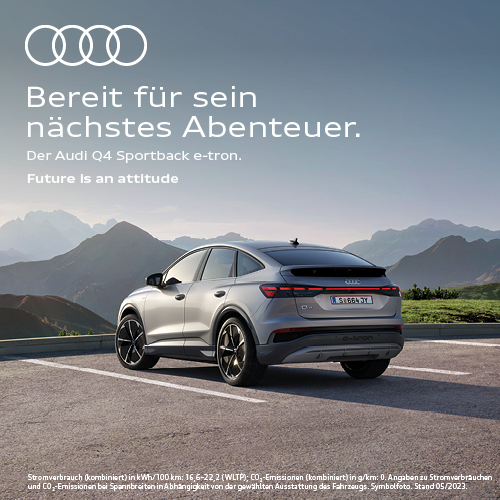 When making decisions, Andreas Döllerer likes to listen to his gut. The gourmet chef from Golling near Salzburg has generally remained very down-to-earth. When he cooks for his family he likes to serve classic dishes. And for the guests of his award-winning Genießerrestaurant (= indulgence restaurant) he likes to capture the taste of his native region. In his talk with La Loupe, Andreas Döllerer spoke about "Alpine Cuisine", about the importance of family, and the most important ingredient in every dish.
L.L./ Mr. Döllerer, it was your grandfather who laid the foundation for Döllerers Genusswelten (= world of indulgence). What's the history behind your company?
A.D./ Our house has been an inn and a butcher shop since 1909. Nowadays the production of our meat products is outsourced, but all the specialties are still made using my uncle's old recipes and then sold at our Feine Kost. In the 1960s and 1970s Golling was a lively tourist destination – the first German package holiday tourists vacationed here. In the early 1980s my father decided to focus more on quality and turned an efficient tourism enterprise into a gourmet restaurant.

That was tricky at the beginning – back in the 1980s one did not just go from Salzburg to Golling for dinner. But my parents saw it through. And to do so they got Eckart Witzigmann's chef de cuisine from Munich's Aubergine. His cooking was simply magnificient! And those were the first culinary experiences of my childhood. Between 1990 and 2004 Bernhard Hauser was chef de cuisine and he had a great influence on me. I was the first one in the family to become a cook. In 2002, when I was working in a two-star restaurant, the question of whether I'd like to take over the kitchen came up.
So, in 2004, when I was 24 years old, I took over the reins in the kitchen. Those past 15 years have passed very quickly but they were also quite successful. In 2008 we took the step towards Cuisine Alpine and since 2010 the name has been a protected trademark. We were the first to realise this holistic concept in the alpine region and many of my colleagues have since followed suit. I think that's great because we're all stronger together. I don't know if alpine cuisine per se will last. But it simply is our way of cooking – with ingredients we find just outside our doors. We keep working on this idea, we keep going out into nature, collecting roots, berries, and everything else we can find.
What's exciting about it is that many of the things have only rarely or never been used in the kitchen. Up until now, for example, gentian root was usually only used to make schnapps. Now we keep coming up with new complete dishes with it. That's what we serve alongside classics like the char from Bluntautal valley or game from Salzburger Land. Game and dairy products are the two signature products of our region.
"I don't see why one should keep recipes secret."
L.L./ Would you say that that sense for indulgence was passed down to you in your family, like a trade?
A.D./ While my parents and grandparents were never cooks themselves, I'd say that my parents in particular are and always have been true epicureans. I was about three or four years old when I first ate at a three-star restaurant in France. I think whether or not you take your kids to such hotspots of indulgence from the beginning on does make a big difference. We have taken our three sons to many great restaurants. And I hope that that's going to make an impact, in the long run. Whether they'll decide to become chefs themselves – that I don't know. But I do hope they'll turn into epicureans, too. If you ask me – that's what counts.
L.L./ How important is family to you?
A.D./ Very important. In our family we all help each other and we stick together. The success we have is the success of our family, not of an individual person. And I think the only reason it's working so well is that the company has reached a certain size, particularly as a result of the wine trading, and everybody has their own area where they can work freely. From time to time we do meet up and exchange thoughts. But still, everyone makes their own decisions. I think that that's my family's secret to success.
"I don't go to Japan to come back and cook Japanese in Golling."
L.L./ You sell cookbooks, host cooking courses, the chef's table – do you enjoy letting people peek behind the scenes?
A.D./ We, our family, are the hosts and we appreciate the contact with our guests. There are no reservations there. And I think that that's what makes up the charm of our house and what sets us apart from many other competitors – with our family the guests feel at home. And, to come back to your question: we already hosted cooking classes back in the 1980s. I don't think keeping one's recipes secret is a good idea. It always tastes different anyway – depending on who's cooking.
L.L./ If someone were to cook one of your dishes at home: what would they need?
A.D./ Passion! There's no use in forcing myself to do something. We have guests who've copied and emulated our recipes down to the smallest detail – even with the glacier sand. And they did it with a lot of passion and the process made them happy. That's amazing! And that's exactly why we write the cookbooks.
L.L./ And what is usually served at a Döllerer family meal?
A.D./ Usually I make classic dishes. And things I myself got on holidays as a child – like roast loin of veal or roast veal. Come to think of it, that's what we almost always had (laughs).
"The success we have is the entire family's success."
L.L./ What's your approach to food trends?
A.D./ The question here is what you see as a trend. I like visiting countries that are trendy – like Peru, Scandinavian countries, or Japan. But that does not mean they have to play a role in our kitchen. I like to know what goes on in kitchens all over the world. But I don't go to Japan to come back and cook Japanese at home. Sometimes there are influences – like the Japanese respect for the original product – and there is much to learn. And that's what I try to pass on to my members of staff.
A trend like molecular cuisine, which was quite strong during the early 2000s, still influences our kitchen. But that certainly does not go for all trends. What's important is to not go chasing after every trend, but to stick to one's own philosophy. You can be open minded and keep developing your own cuisine. But I don't think it's wise to say: everyone's into vegan cooking now, so we'll make our own vegan menu, too. That would be a little too easy for me.
"We enjoy cooking with ingredients we find just outside our door."
L.L./ Are there any concrete plans for the future?
A.D./ We never make plans. In the past years everything has developed based on a gut instinct. There were no strategic goals; something to accomplish in the coming five years or so. That was never our path. The bigger the company the more you do think about such things, of course. But I usually refuse such notions. I have always known to stick to my gut instinct when making decisions.
Which is why I have no idea where we'll be in 20 years (laughs). But, generally speaking, we want to become better in every area – wine trading, the hotel, the kitchen. However, I don't know what concrete path we'll take, we'll just have to wait and see. And in 20 years I hope that my sons will be doing the cooking. Or my nephews. Or my nieces.
WORDRAP WITH ANDREAS DÖLLERER
The taste of...reminds me of home!
Schwarzbeernocken – a type of blueberry pancake..
When I'm not cooking...
I like to enjoy a glass of wine.
What did I last learn in the kitchen?
You learn all the time.
Noisy or quiet kitchen?
Quiet.
Inside story
Andreas Döllerer grew up an "innkeepers' boy" at his parents' inn and hotel. After his training as a chef and several stays abroad he came back to the family business where he subsequently established Cuisine Alpine. For his award-winning cuisine he draws inspiration and ingredients from Salzburg's Alps. The 40-year-old sees his more than 20-strong family which represents Döllerers Genusswelten (= world of indulgence) as a vital part of his success.

The Döllerer family's Genusswelten are made up of the Geniesserrestaurant, the rustic inn – which has been a popular meeting place for young and old for more than 100 years – the delicatessen shop Feine Kost and the Geniesserhotel (= indulgence hotel). The delicatessen shop is the place to go for selected meat specialties that are made using old family recipes and can be purchased at the delicatessen counter. The family-run four-star Geniesserhotel is popular with guests who appreciate the vicinity to the festival city of Salzburg but prefer a comfortable, rural environment to the city's hustle and bustle.

At Döllerer's Enoteca & Weinhandelshaus (the wine shop), just outside Golling, private wine lovers as well as wholesalers get to chose their favourite wines, champagnes, and spirits from renowned producers from all over the world. The Enoteca is it's own world of indulgence where Mediterranean antipasti and Austrian delicacies can be combined with a tasting of wonderful wines.


DÖLLERERS GENUSSWELTEN
Markt 56, 5440 Golling
+43 6244 / 42200
office@doellerer.at
www.doellerer.at

www.weinhandelshaus.at

---
Share Article