Masterpieces of photography
Lech Zürs' most beautiful and spectacular angles.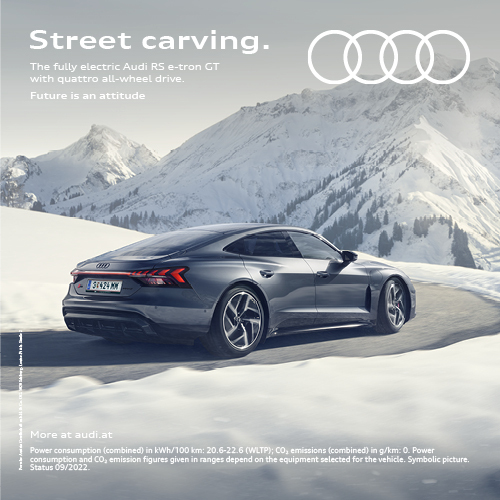 Many are familiar with the impressive black and white photograph of the ski jump over a Porsche that's parked straight across the road. This picture was taken by Hans Truöl – one of the most exceptional press and star photographers of his time. Truöl, who passed away in 1981, did not just document this jump, but also the landscape around the Arlberg as well as its inhabitants. His sense for composition, proportions, contrast, and silhouettes makes many of his photographs unique works that are now – after having been digitalised – available in almost every format or as high-quality photo books.
That desire to capture time was probably the most basic reason why Hans Truöl started working with a camera very early on. The son of a merchant was born in Augsburg in 1920 and he learned the art of photography at Fotohaus Heimhuber in Sonthofen, with a proper dynasty of photographers. Already at the beginning of the 1950s he used his Hasselblad camera, which was all the rage at the time, to photograph landscape and people in Lech Zürs. It was almost an urge for him to capture everything that was new in the region on film. A master of reportage photography and passionate about hiking, skiing, travelling, and driving – preferable his beloved Porsche 356 – his core topic was the growing ski tourism which he captured in a unique way. Thanks to the high quality of his photographs and his eye for extraordinary motifs his works soon attracted attention and earned him quite the reputation over night.
Life in the mountains
He captured the euphoric mood of those times – sometimes staging, sometimes with a sure eye for nature's aesthetics, and always with an almost intrusive enthusiasm. Crazy, liberated moments that would not have been possible anywhere else. Because in Lech Zürs you were allowed to do things you would not have been able to do at home. For the perfect picture no path was too steep or too dangerous. He also documented construction feats like e.g. the renovation of hotels or the construction of the Mont-Blanc tunnel as well as the legendary Porsche convention in Zürs and athletic highlights. Hans Truöl accompanied the alpine heroes of the times, too. Legendary skiers Toni Sailer, Ernst Hinterseer, Karl Schranz, Egon Zimmermann, Anderl Molterer or Willy Bogner were all captured when he took his camera to World Cup events. Prominent off-piste celebrities made it in front of Truöl's lense, too, though. Ferry Porsche, the Dutch Queen Beatrix, Ingrid Bergmann, King Baudoin I of Belgium, Petra Schürmann, and Luis Trenker can also be found in his pictures. Many of them formed a long-standing friendship with Truöl. Thanks to his burning passion for Lech Zürs and the commitment to making the region famous all over the world, Truöl was awarded an honorary certificate by Zürs tourism association.
Inside story
Hans Truöl was fascinated by the Alps as an easy-to-reach paradise for skiing and other leisure activities and by the growing ski tourism in the region. On the back of one photograph, he noted: "Skiing, a business worth millions: four million skiers in Germany alone. They wedel and wedel and wedel. Over mogul slopes. Squished into the curves of a well-used slalom route. Without being able to ski. Men and women, young and old. … Those with a pessimistic view of ski sports believed "overcrowding" was afoot. That is not true. There are hardly any tracks visible next to the slopes. And the wide skiing country lies beside the slopes. But only few can and want to discover it because only few really master the art of skiing …". Over the course of four decades a total of 800,000 photographs were taken, most of which were digitalised in an archive over the course of twelve years. For most pictures the negatives still exist, as do the precisely listed hand-pulled proofs with Hans Truöl's own notes on where and how the picture was taken on the back. "It was Hans Truöl's dying wish that I continue curating the collection", explains Mike Schaffara, Hans Truöl Archiv and his godchild.
Hans Truöl Archiv / Leitung: Bettina Schaffara
Röhmerstraße 251, 47495 Rheinberg
+49 174 / 7589 273
tina20269@t-online.de
www.truöl.info

---
Share Article