News Lech Zürs
Winter 2021/22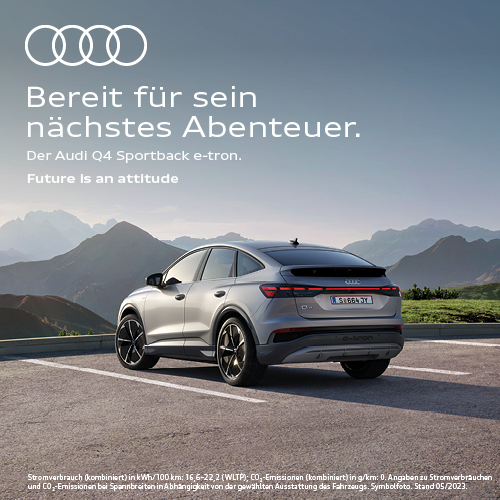 Hip, hip, hooray! 10 years La Loupe. May we take this opportunity to introduce ourselves to you? We are the heads of Skardarasy's La Loupe – Benjamin & Julia – also known as zeitgeisty bohemians. We can't bring ourselves to pick one particular lifestyle, because even if we are always pulled towards the world's most hip hotspots, the metropolis is our mainstay, and though nothing can move fast enough for us, we still value tradition.
This way we have formed a number of passions – not only dating back to our childhoods – we would not want to miss. One of them you might even know yourself because we, too, are regulars at hotels we feel comfortable at.
We love discovering new things, but we feel that during our holidays we also need that which is familiar, intimate, and cherished to make sure that we don't need to go out on an exploratory tour but can start indulging right away. That may sound a bit kitschy, but our inner bohemians are very much focused on indulgence and happiness. Don't you think it's a fulfilling thought that there really isn't much you need in order to be happy year-round and satisfy that yearning? A small trip, a beautiful holiday among friends is usually enough to get the endorphins flowing.
Being the faithful readers that you are you probably know that with this edition we are celebrating the ten-year-anniversary of Skardarays's La Loupe. This means that many of you have made it a ritual to pick up La Loupe; and that doesn't just make you happy, but us, too. So, you know the saying: if you notice something makes you happy – keep it up.
To the next ten years, Julia & Benjamin Skardarasy.
Platform for regional treasures
The wine agency FUX is one of Austria's most renowned specialists for grower champagne and wines from the Burgundy region. For the winter season the rather urban looking hall of Fux Steakhouse has come up with a new pop-up concept store where wine lovers can find their favourite vintages as well as popular collectibles. On top of that a choice selection of exclusive, regional products is offered, too – from stylish lamps to herbal essences and natural cosmetics to colliers from Lustenau lace.
Indulgence for all the senses with sustainable, beautiful items off the beaten path. Peter Strolz, the heart of Fux Wein-Agentur and owner of FUX Restaurant + Bar + Kultur says: "We wanted to give our wines from Burgundy and the champagne a varied platform and that's why we decided to collaborate with the wonderful manufacturers from the region.
The result is a unique combination." It clearly isn't about making a sale but rather about honest work and long tradition. "It's fascinating how much commitment and thought our partners put into their beautiful products. You can feel the passion behind all the processes. That inspired us. We are looking forward to giving these regional treasures a stage", says Martina Strolz, manager of FUX Restaurant. FUX – joie de vivre to take home.
A well-rounded affair for epicures
Is it an igloo? No, the thing standing right next to Lech's Hotel Arlberg is the pop-up bar "THE YURT", returning after a one-year break. The hand-made Kyrgyz nomad's tent with a touch of Bohemian chic will once more offer a special kind of après ski experience. The host Zayad Shah and his team surrounding head of bar Oliver Böckl treat the guests to carefully selected music and special drinks – from a few long drinks to two Japanese gins, fine wine, tequila, mezcal to coffee.

All those expecting après ski with pop music and schnapps are unlikely to find what they were looking for. What you will find, however, is a relaxed atmosphere around a crackling fire. The yurt has ten seats and a total of about 30 guests fit into the round tent. The perfect space for comfortable evenings and lively communication. Why do THE YURT and Lech go so well together?
"We like it almost loud, we live for unique moments and experience and we are hosts with body and soul!" says Zayad Shah. It's all about the experience!
Pure food concept
Uncompromising, fresh, down-to-earth yet still sophisticated vegetarian and vegan cuisine – that's the concept behind "Sharing Chef's Garden" by award-winning chef Paul Ivic and the enthusiastic team at Hotel Edelweiss for TIAN Bistro. The most exciting dishes come to life to inspire the guests' fantasy and whisk them away into a new universe of taste surrounding the main actor: vegetables. A must for epicures who enjoy taking new culinary paths and want to be surprised by dishes made from seasonal, organic, and fairly made products. One menu, five creative courses. Discover, enjoy, feel at ease. Long live curiosity. Long live life.
A piece of Lech for your home
Throughout the year and at any given time of the day Georg Schnell heads out to find the most beautiful spots around the Arlberg. No matter if he's on foot, on skis, or on a snowmobile, the photographer knows every last corner of the wonderful mountainous landscape he has been capturing in unique snapshots for the Lech/Zürs calendar for 25 years now. Already a must-have for many lovers of sports, nature, and culture from all over the world and locals who see him as a trusted companion and popular ambassador of the holiday region and home, whose impressive variety and inimitable character he (re)presents year after year. For many the calendar has become a collectible.
total of 200,000 editions have been sent out to all continents. "That joyful anticipation before going on holiday is extremely important. Inspired by the pictures on the calendar the guests are enthusiastic and happy when they arrive. After 25 years we are sure of that" Georg and Michaela Schnell tell us. On occasion of this anniversary the two would like to say thanks to all their partners for the long-standing collaboration – among others with Alpina Druck in Innsbruck – and, of course, thank their customers for their years of loyalty. A self-published illustrated book offers all those who are interested the opportunity of getting to know the region from its most beautiful angle.
Unlimited skiing fun
Here on Arlberg the history of skiing goes way back. In 1936 Austria's first drag lift transported skiers up the slopes and 35 years later – and much more comfortably – the chair lifts Zugerbergbahn and Madlochbahn started doing the same. These still are a feature every winter sports enthusiast here knows. A connection between Lech/Oberlech, Zürs and Zug, they are of central importance. After more than 50 years of service, however, the two lifts have now entered their well-earned retirement. In their place – the state-of-the-art Zugerbergbahn and Madlochbahn which transport skiers up the mountain more quickly and comfortably and without waiting times.
After the connection of St. Anton/St. Christoph via the Flexenbahn, this is yet another highlight for lovers of alpine sports on Arlberg. "With the new Zugerbergbahn the White Ring's most important bottleneck was brought up to speed" Christoph Pfefferkorn, MA, commercial director of Skilifte Lech, is amazed, "and thanks to the perfect timing with the equally new Madlochbahn queuing times will be effectively eliminated." The new Zugerbergbahn is a 10-person cabin circular cableway with panoramic windows and both, the summit station as well as the cabin depot in the valley station, are completely underground.
This way they not only improve the landscape and contribute to conserving the environment but there also are fewer wind-exposed areas. The two stops of Madlochbahn – a comfortable 6-person chair lift with heated seats and weather protection – are free-standing and covered with a glass-and-steel construction. The covers of Madlochbahn are an optical highlight, decorated with the winners of the White Ring Race.
Stories for eternity
The hotel, a place of coming and going, but also a place for comfort and familiarity away from home, and sometimes the most enchanting and popular setting for literature. Oftentimes people will meet there for a limited time, only to part a short while later – and leaving fate to run its course. Speaking of running: at Gasthof Post in Lech a valuable painting is stolen. Resident philosopher Katrin Neuer and the city's sociologist Oliver Vonlanthen turn into amateur detectives and start to investigate. In his Post thriller Andreas Giger tells an exciting story – both, fascinating and informative – about the popular traditional hotel. The book was dedicated exclusively to all guests and staff.
Culinary Rote Wand
Small, quaint, and definitely worth a sin: the Rote Wand hotel shop stocks not just natural cosmetics by Susanne Kaufmann, timeless clothing by Lenai & Linai, and incense bowls from Bregenz Forest, but also an exclusive selection of home-made dishes with ingredients vo:dô (= from here) as well as high-quality products that are made with a lot of passion for detail. Be it beef goulash in a jar made of local beef from Zug, vegetable curry with veggies from the Vetterhof organic farm, or home-made blackberry jam: whether you're a sweet tooth, epicure, or fan of Rote Wand delicacies, this selected range of products will yield the perfect souvenir to remind you of your culinary stay at the hotel and put a smile on the faces of those who had to stay behind.
Delicacies to go
Lech's restaurants have always been considered especially creative and inventive: and now, this winter, all those yearning for regional and international haute cuisine in their hotel room can simply have it delivered. Whether it's a sophisticated dinner for two, a small snack at lunchtime, or tasty cakes to go with your afternoon coffee – all your culinary wishes will be fulfilled. All take-away restaurants can be found here:
A play about skiing culture
Lechmusem has found yet another creative opportunity for making Lech's history and development as a tourism destination and the development of the skiing culture an experience – the Winter-Wander-Theater SKI LABOR LECH offers culture, excitement, and entertainment in the snow and turns Lech into a very special play. The play is based on scientific research of Lech Zürs' skiing culture and was designed and written especially for the place by the Viennese author, director and actor Andreas Kosek. Together with the ensemble Teatro Caprile that Kosek himself is a part of, the audience wanders between Lech and Zug where extraordinary locations serve as the stage. The hike is supposed to become a cultural fixed point for guests and locals. The project lives – just like the history does – from the many people that take part in it and thanks to local partners and the local government who bear most of the production costs.
Fight for the crystal ball
Nowhere else in the world does winter deserve its name as much as in the ski resorts of Lech and Zürs. Perfect conditions for one of the most beautiful alpine sports competitions – the Ski World Cup. After its successful return to Arlberg last year, the international Ski Cross competition will open the coming 2021/2022 winter season in Lech/Zürs in mid-November. On November 13 and 14, 2021 Flexenarena will once more become the ideal spot for hosting two parallel Giant Slaloms – with an audience, albeit with tightened security measures. Cheering, excitement, and emotions will be thick on the air while the elite of the Alpine Ski World Cup will race each other down a total of 365 metres over an altitude difference of 102 metres and an average gradient of 26% to make it to the next round. Last year World Cup Winners Petra Vholva and Alexis Pinturault were the first to win the parallel World Cup race in Lech/Zürs.
The new La Loupe Lech Zürs magazin
---
Share Article