"Classics are created over many generations"
Interview with Gerhard Lucian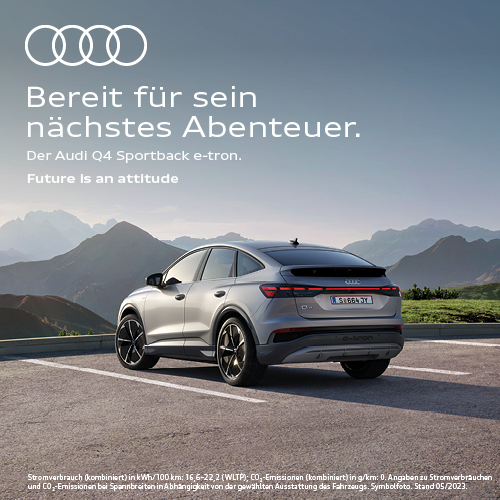 The sun terrace at Burghotel is the unofficial main square of Oberlech. LA LOUPE met up with the owner, Gerhard Lucian, to talk about changing generations in the business, car-free zones, sexy salads and the secret ingredient in the famous beef tartar.
L.L./ Mr Lucian, what is it that makes Lech and Oberlech a paradise for you?
G.L./ Well, in winter we have a unique skiing area here, one of the best in the world, I'm sure. In summer Oberlech is a hiking paradise with a unique fauna and flora. There are countless types of orchids and gentian that are truly unique in the Alps. What is also special is the local community who lives here and makes sure that the nature is and remains liveable in summer, despite winter tourism.
"Some say Lech and Oberlech are the Alp's Monte Carlo – unfortunately we do not have the same tax advantages."
L.L./ The "Burg" is a meeting point for visitors and guests from all over the world. What would you say is the reason Oberlech has been one of THE holiday hotspots for decades now?
G.L./ Some say, Lech and Oberlech are the Alp's Monte Carlo. I know, Monte Carlo also lies at the foot of the Alps, unfortunately though we do not have the same tax advantages here – that would be nice. Oberlech is a destination that is visited not only by the global jet set but also by business people who value the great quality and service offered by gastronomy and hotels – and the quiet. A contributing factor here is the tunnel system that makes sure all the procurement takes place below ground. Aside from that the skiing area simply has great conveniences, particularly Oberlech. "Ski in, ski out" works perfectly. It really is a great advantage if the lift is situated right by the hotel. Reaching the slopes on skis and in one's boots without having to ride a bus for half an hour – this situation really has been resolved well here. As a result, the skiing area really does speak for itself.
"It's a great advantage when the lift is right outside the hotel's door."
L.L./ The numerous ideas and projects that you were part of, e.g. the tunnel system, the heating plant or even the skiing instructors' calendar – would you say that you get your inspiration from the people on your terrace? As you mentioned you do have many business people here, many of which are personal acquaintances. Do you often talk about innovation or would you say holiday and relaxation are at the focus of attention?
G.L./ There are many who just want to relax and enjoy the moment. But this feeling is also something we can deduct a lot from. When a guest is content, particularly someone who can afford just about anything, and keeps coming back and books a year in advance – I'd say that's pretty good in terms of confirmation. Sometimes I even get letters of gratitude…which I don't usually 'broadcast' though. What's important to me though is that my staff hear of it and know: When you do your work very well, everything else will happen automatically. I always say: "Be friendly, there's no need to perfectly serve the plate from the right or the left hand side, nobody cares about that." What is important in service is that one is friendly, that the food is good and served without any frills, natural food is important. Local products where you know where it comes from, that the animals were fed properly, taken care of properly and that the harvest is done properly. That's much more important than 45 gestures and moves during service – those have long gone out of date.
"We are a family business – which means that the family works here and is present all the time, and that the business is owned by the family."
L.L./ Burghotel has been a family-run business for two generations. One decisive reason for success is the staff. How do you motivate your staff and bind them to the Burg?
G.L./ We are a family business – which means that the family works here and is present all the time, and that the business is owned by the family. So one of our basic principles is that one of us always has to be here. That way we make sure that the staff always has a competent person they can ask. And of course we're also here to deal with the positive, not just the negative. And it is very important to make sure that the positive sides of guests and staff alike are seen and can be worked on. Good staff is also found via the guests, via word of mouth, although that's becoming increasingly difficult.
"Older employees may not look as fast from the outside, but their work happens in their heads and minds – and in the end they're twice as fast anyway."
L.L./ You do have a lot of long-standing staff, don't you?
G.L./ At the end of the last season we saw one lady off into her well-earned retirement, she was with us for 39 years. One employee, Helga, has been with us for 41 years, and Franz 35 years, I'm sure, another gentleman was with us for 28 years. I think you'd be hard-pressed to find gastronomy business on the Arlberg where members of staff retire after decades of service. It is a great pleasure for me to have such employees. Older employees may not look as fast from the outside, but their work happens in their heads and minds – and in the end they're twice as fast anyway. Because they think, because they use their heads – and not their legs. Things used to be done in a hectic fashion, now you think beforehand and make sure you take the right decision, that makes things a lot easier. So this is my appeal to the young – use your heads!
L.L./ What quality criteria do you use to set up your offer at Burghotel?
G.L./ What's important to me in any case is a regional approach, particularly when it comes to food. I have an older brother in Salzburg who produces organic beef and almost exclusively sells it to his two brothers. Then there is a farmer in Klostertal who breeds pigs for me after my quality standards. Apart from that there are several farmers in Vorarlberg and the region around Lake Constance that bring veal, vegetables and salads. As far as the rooms are concerned we have a sleep system from a company in Feldkirch, they also use organic products – from the wood all the way to the mattress stuffing. That was one of our larger investments of the past years. When you hear from your regulars that they sleep so well, then that's not just due to the car-free nights that mean you can sleep with the window open, but also due to the high-quality bed.
L.L./ You have been a passionate hunter for years and you process your own game. What is it that's most important to you here?
G.L./ When it comes to game there is this old-fashioned opinion that game has to 'ripen' for three to four weeks. For me that's a decay process you can safely leave out. I process the fresh meat. It all depends on how it's killed, of course – most importantly the death hast to be stress-free. That can be done in the wild, under consideration of certain rules. My hunter colleagues from the area deliver game to me, particularly chamois and ibex. There's nothing more natural, it's very low-fat and tasty.
L.L./ What game specialties do you serve at the Burg?
G.L./ Well we have the game meat loaf, for example, it's a traditional Austrian dish and we use chamois and ibex for it. That's very popular and something rather different, for once.
L.L./ You also treat your guests to other home-made delicacies …
G.L./ Yes, on the one hand there are home-made sausages and then there is cheese made up on Kriegeralpe. Up there I have my own saline bath – with not just any salt but with natural brine from Bad Ischl. Meanwhile I've learned how to make good mountain cheese. And fresh cheese and yogurt, curd cheese and butter in the summer – all this is very popular with our guests.
L.L./ How long have you had the dairy now?
G.L./ I now have the third production batch in the cellar, so it's three years.
"Work that is done by hand is always better than that which is done by a machine."
L.L./ How long does it take for the cheese to ripen?
/ In my case it takes at least 6 months. Only then do we use the cheese. Of course you could eat it after 3 months, too, but then it's just not as tasty. What's also important is to not use too much salt, so less salt than what is customary. That makes sure the cheese has a more intense flavour. And for that you need a decent cellar. You also have to brush and salt the cheese by hand, and delay these steps for as long as possible.
In the big cheese cellars this is done by a machine. But in the end everything is better when it's done by hand rather than by a machine.
L.L./ Would you say that this is your secret to success?
G.L./ Well, it's not a secret. What with the immense price pressure created by the retail market, the big producers' first goal is to reduce cost. And that's mostly the consumers' fault who always want to eat cheaper and cheaper.
L.L./ Do you prefer working with your head or your hands?
G.L./ I think that working with your hands can be very relaxing. When it comes to my two hobbies – hunting and golf – you need both your head and your hands. Both hobbies help me unwind, because I have to use my head and can't think of my business. When you get distracted playing golf, you'll miss. And that's the same with hunting, of course. So that's the ideal balance for me. A different task that requires both the work of hands and head.
"If I convert this, it means that our beef tartar herd is made up of 350 cows."
L.L./ A mighty classic is the Burg's Beef Tartar that every guest can have made according to their own personal taste. What led to this special service and what ingredients definitely have to go in there?
G.L./ Well that's easy to explain. 32 years ago my brother Hugo was head of the restaurant and I was chef de cuisine. And my brother simply decided we would make beef tartar now. At the beginning that didn't work out because we prepared it in the kitchen. Preparing it directly in front of the guest would have been too much effort – we had no routine and not enough staff. So it didn't really take off. In the following winter, however, we decided to do courses and make sure the process went as smoothly as possible and had many automated movements so that we would be able to prepare it in front of the guest. And from then on it worked. Meanwhile we make about 5,000 portions each winter. Which, when converted, translates to a beef-tartar herd that is about 350 cows strong.
L.L./ In this case automated means that there are certain rules that have to be followed?
G.L./ Yes, there are precise specifications. What definitely needs to go in the beef tartar is olive oil, salt, pepper, onions, sweet pepper, cayenne pepper and Cognac – unless there are allergies, of course. The guests' tastes are different. Some don't like capers – and I say they must go in. Others don't like sardines – and I say the must go in, but of course in moderation. The same goes for mustard and ketchup, that rounds it all off and then you have all five flavours together, which is essential in all cooking. Salty, spicy, sweet, sour and umami, the taste experience where everything is combined perfectly. With fresh herbs – fresh parsley also is a must – you can really get the perfect result.
"Guests from the Sauerland don't come here for sauerbraten."
L.L./ What's your take on food trends in gastronomy? Do they find their way onto your menu?
G.L./ Food trends appear all the time. In most cases they do not prevail if you have so many international guests. They want classic and regional dishes. The beef tartar may not be an Austrian classic, it's a Czech dish, actually, but meanwhile it's become a classic. What also sells really well is the Viennese veal schnitzel fried in butter, boiled beef ('Tafelspitz'), regional fish – those are things that are always popular and in high demand with our guests. For the guests that's the reason they come to Austria. They don't want sauerbraten when they're from Sauerland (translator's note: a German region and its signature dish).
L.L./ Do you think tourism has to go with the trends less and less or would you simply say: once a classic, always a classic?
G.L./ Classics become what they are over many generations. That's something that takes time. When you want to 'invent' a classic that's usually very difficult, most of the times it's coincidence. I always say: "Offer the guests what they want and a few alternative versions on top of that." What's always important is that the quality is perfect. A few years ago I introduced the 'sexy salad'. I really liked the name, and the ingredients, too, of course.

L.L./ And what is it that makes the salad so sexy?
G.L./ What makes it sexy is the combination of shrimps, avocado and mango – sweet, sour and spicy. For me the result is very feminine and what's feminine can be sexy. However, the salad is also popular with men.
"You can't always ask how much a project will cost, but rather what it will bring."
L.L./ You and your family have always been innovators in tourism. You are part of the community council of Lech am Arlberg. What is your tourism dream for Lech and Oberlech, particularly in summer?
G.L./ Definitely to make Oberlech car-free in summer, too. I say it really is time to go car-free. And the same would be desirable for Lech, but there it'll be much more difficult to put into practise. We'll have to bring more parties and politics together. And that's definitely not an easy task – one, maybe two generations earlier, that might've been a bit easier. But maybe there also are other projects that can be realised and that the people will see, too. One big problem is that many people just don't see innovative ideas or take them seriously. Many people with a vision are pegged as nutjobs or weirdos. It was the same with my father and the tunnel project. There were quite a few people who said: "Now he's really gone nuts, we'll never be able to afford this, it'll never work out!".
After 12 years of negotiations the tunnel was built. And it did work out. As you can see now, Oberlech has become the community's most used plot. And that alone could've financed the tunnel system three times. One can't always ask how much a project will cost but rather what it will bring. There are not guarantees that each idea will be the right idea, but you can try.
"Growth alone – that can't be it."
L.L./ In your line of work – do you get to retire at some point?
G.L./ I certainly hope so. I haven't planned for it to happen any time soon, though, I'm sure it'll take many more years. I think that age and experience are very useful to the younger generation. And I'm looking forward to the new generation and new ideas. I'm sure there will be things where I can only shake my head – only to be proven wrong. And for the younger generation it's always great to be able to ask someone who is older and has had success for advice. I experienced that myself. I have parents who still think very clearly and who are open to conversations about future projects. Big innovations are increasingly difficult – meanwhile there are many small steps that lead you to your goal. You work on the service, on the quality, I think that's what's most important for the future, also when it comes to the global economy. Growth alone – that can't be it.
Wordrap with Gerhard Lucian
Winter or summer season? There are 12 months in a year
The perfect guest … is friendly and quality-oriented
I recharge my batteries … out in the nature
My favourite dish in summer is … buttered bread with home-made cheese
I learned from my parents … that many decisions are made in the family
I teach my children to … "Always act in a calm and level-headed manner and think first."
Inside story
Gerhard Lucian is hotelier, dairyman, hunter, golf player and visionary. Together with his wife Elisabeth and children Christian and Marlene he leads the Burghotel in Oberlech and Kriegeralpe in the second generation. Burg Vital Resort in Oberlech and Hotel Stadtkrug in Salzburg-city are in the hands of this brothers Thomas and Hugo and their respective families. Hugo also runs a farm in Obertrum, where highland cattle is bred.
---
Share Article
---
Lech & Zürs