Wrapped up and snug
Interview with Meike Schilcher, the woman behind the Salzburg-based cashmere brand Daddy's Daughters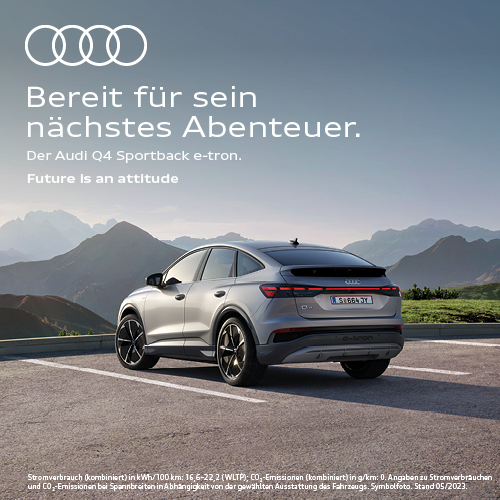 The cuddly love story between a designer and her favour material, cashmere, began when she was still a child: through her father, who had a managing position in a weaving mill, Meike Schilcher discovered her passion for fine yarns and fabrics. After a career in the fashion industry she founded her own cashmere label, Daddy's Daughters, in Salzburg in 2012. And the expectations are high: the ultimate goal is for women to feel comfortable in her designs. What inspires the designer, why she likes personal work, and why she refuses to get an online shop is what she told us in her La Loupe interview with Julia Skardarasy.
"Each woman, no matter her age, is a daughter. The label's name has something lasting and sustainable."
L.L./ An unusual but certainly memorable name for a brand. How did you come up with "Daddy's Daughters" - and does your own father-daughter relationship have something to do with it?
M.S./ I was a Daddy's girl all my life. My father always used to be my best buddy, my consultant, and ally. Because of his job at the weaving mill he got me interested in beautiful fabrics, patterns, and colours early on. When I moved from Germany to Austria my relationship with my parents became even more precious. And Daddy's Daughters stands for that unconditional love and that warm embrace of a family. And that feeling can be expressed in cashmere: when I slip on a sweater I feel safe and comfortable in the fine and soft material – it's a bit like a cocoon. Plus: a woman, no matter her age, is a daughter. Which makes the label's name something lasting and sustainable.
"I need time and I need to let myself drift in order to let the ideas flow."
L.L./ Good things take time, where do you find inspiration for your collections?
M.S./ I need time and I need to just let myself drift in order for the ideas to come. I plan more or less regular store-check trips where I sit in Copenhagen, for example, and just look at the people. My surroundings and nature – right outside my door here in Salzburg – provide a lot of inspiration. Of course, we also get the latest trend colour cards and I go to textiles fairs. Some days I come up with ideas for several different models, some days nothing happens at all. The trick is to not lose faith in oneself on days like these and just know: this season is going to be good, too. Good results need a flow and time. Basically, Daddy's Daughters is what I like to wear all the time, too. It's uncomplicated, easy, a little sporty, but it can also be elegant and it definitely is not boring. The label transports my personal style and it's beautiful to see and makes me proud when other women also find that style appealing.
"When I slip on a sweater I feel safe and snug in the fine, soft material – it's a bit like a cocoon."
L.L. / Your brand can be found in small, selected shops; hotel boutiques, for example. Why do you prefer them to large retails chains?
M.S./ If you look at our website you'll see: we don't have an online shop but we have more than 150 partner shops now. We deliver to more sophisticated retail stores, we love to personally work with our customers and as a result we deliver neither to online retailers nor to department store chains. And without a proper online shop our customers can still get in touch and in some cases even order items which we'll then send to the boutique closest to them. Each item of clothing that's sold is supposed to carry a little bit of our vibe and that's important to us. The work with the boutiques is very sustainable, and it takes place on a basis of trust with our business partners. "We are family" - I used to think that was a really cheesy line. But for our team that really holds true. We all work extremely well together. And only when I feel at home in a company can I work effectively. I only surround myself with people who match my personality. And people who jive with me will also work with Daddy's Daughters. Typical for a woman whose zodiac sign is cancer.
L.L./ How do you manage to make the luxury material cashmere approachable for anyone?
M.S./ We're generally very good at this balance between our high fashion standards and classic-modern costume. That's what makes the collection so interesting for the alpine region, it's easy to match and can be sporty or elegant but also worn with a traditional dirndl or other dress at an event. When I look at the list of vendors I'm quite surprised sometimes – it really is a very diverse range of boutiques who choose from our product range. For many of our larger customers we're also very good at "satisfying wishes": our back-up makes us quite flexible and therefore we can easily help our customers with smaller wishes or potential needs for optimisation… And it's that extra amount of empathy that is very special to our clients in that moment, it has a lot to do with mutual appreciation and that's the kind of level we like and want to work on.
"Daddy's Daughters really is what I like to wear myself."
L.L./ Now, let's talk about fashion and trends. What role does the choice of colours play in your collections?
M.S./ Our very high-priced models that are often knitted with four or more threads and our so-called "Porschepieces" are only made in classic cashmere colours: quiet and timeless colours like beige-melange, taupe-melange, grey-melange, olive-melange, or vanilla. The melanges are the most beautiful, scintillating colours for cashmere because we spin natural hairs together with dyed nuances which results in a sophisticated and always stunning melange effect. Our basic models are available in fashionable trend colours. Not even I would pay more for a bright orange coloured sweater so how am I supposed to justify a high price in front of our vendors or their customers, respectively? A special classic is our huge triangle-scarf, either with a ruffled edge or a fringe, this model is always sold in all colours and with every collection and it's sold out at the end of every season.
"With every garment that we sell we want to pass on some of our vibe, that's particularly important to us."
L.L./ What product is a must in every Daddy's Daughters collection?
M.S./ I'd say the wow-pieces are a must because they awaken the desire in the final customers who see it while leafing through a magazine or a fashion blog. They are those special pieces that go in line with the latest trends and the newest colours. We are often surprised at how some of the very fashionable models that are sometimes quite expensive because of the knitting technique used are among the top sellers in the shops because that's exactly what women can't find in other shops. Which means we always need to look at and reflect on – also on a personal level – what would be our "make a wish" and what would be "need to do"? And a bit of "make a wish" needs to be in every collection!
"Our customers are often properly addicted to cashmere, many of them are regulars."
L.L./ What does it feel like when you see your garments on other women?
M.S./ It actually does happen, in hotels with shops that we supply, on the streets of Salzburg, at the airport, when I'm out for a meal. In the hotels is usually the house's guests that buy something there and then wear it out the same evening. And I'm always happy to see a woman – no matter her age, her shape, or where she's from – in Daddy's Daughters. It shows you how diverse our customers are. And there is one thing that unites them all: they are women and they are daughters. Daddy's Daughters. Buying cashmere has a lot to do with emotions. That spark when you first touch the material or when you can see how fluffy the material is in the right light – that's something you can't take away from a woman. Many of our customers are proper cashmere addicts and regular customers.
"Buying cashmere is a very emotional thing."
L.L./ You're originally from Westphalia. What does Salzburg do for you and what does the city mean to you?
M.S./ When I was a child – I grew up in a suburb of Bielefeld – I spent a lot of time by the sea but we also spent family holidays near Salzburg in Bischofswiesen sometimes. By now I've become a proper child of the mountains. I came to Austria in 2008 and met my husband here. I travelled a lot for work but it was always beautiful to come home – and Salzburg has been this home for a long time. I can relax here and the quality of life is great. I have a wonderful family and dear friends – I found my home and that just feels good, so good it gives me the motivation to start fresh into every season.
---
Share Article
---
Salzburg
Next Article