A southern twist
Interview with Elisabeth Walch Fernandez from Hotel Angela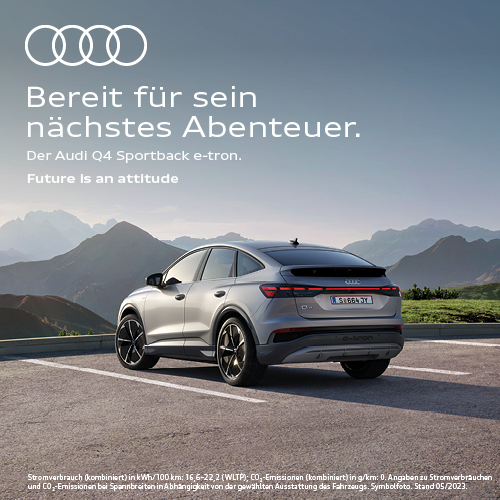 The sun slowly sets behind the mountaintops, the summer sky's magnificent blue gives way to a glowing orange-red and bustling nature slowly settles down. That's the moment when Lech Zürs' southern twist comes out – with the taste of delicious tapas served on Hotel Angela's terrace. In the summer months Elisabeth Walch Fernandez, Elmar Walch and their team serve lovers of Spanish cuisine small delicacies such as boquerones, jámon iberico bellota, and gambas al ajillo. Beware – this interview will make your mouth water.
"Eating tapas is something very communicative."
L.L./ Mrs Walch Fernandez, in the summer months you run a Spanish tapas bar right on Schlegelkopf. Where does your passion for Spain come from?
E.W./ The reason really is quite simple: my husband in from Spain, from Barcelona. Consequently, I have been there many times and always enjoyed tapas, small snacks, no matter if we were in the city or at the beach. Eating tapas is very communicative. You're usually standing and get to talk to many people.
L.L./ Your day bar serves authentic Spanish delicacies. What varieties can the guests look forward to?
E.W./ Of course we have the classics on the menu as well as all our favourite dishes and a few particular specialties. Overall the guests can look forward to a large variety – from cold classis like boquerones (sardines), cold soups, pan con tomate (bread with tomato) to typically Spanish meats and hams like jamón the bellota, a high-quality ham from Iberian pork, and cheese from Mallorca – of which we offer two kinds which we get delivered directly.
The warm tapas we serve are, among other things, patatas bravas (fried potatoes with a spicy sauce), different kinds of tortillas (a type of omelette), croquetas de jamón (croquettes with serrano ham), my children's favourite, and pulpo a la gallega (fresh octopus, Galician style) with olive oil and peppers, which is cooked very slowly. Aside from that we have specialties like secreto, a special piece of pork that is seared and then served with pimientos (little green peppers). We also serve some fish dishes, among them sea bass and different kinds of roasted or marinated white fish.
All dishes are served in typical tapas portions to make sure you can try them all.
E.W./
"We collected the recipes from families, friends, and cookbooks."
L.L./ Are all the dishes made by a Spanish chef?
E.W./ That was the original plan, but he cancelled at the last minute. Fortunately, our good friend Gema was able to help out, she's already cooked a lot together with my husband Felix. She came to Austria for a few days and tried out and tested the products with the Austrian chef we had back then. Recipes were collected from families, friends, and cookbooks. In the end we came up with a really nice menu.
L.L./ How did you come up with the concept?
E.W./ We renovated our bar a short while ago. The new bar has a long, somewhat higher table. Back then, in winter, we already had some Spanish snacks on our lunch menu and we occasionally had tapas nights at the hotel. And when we invited some friends and colleagues to have tapas at that very table and that was really well received we decided to try out the tapas concept in summer. It was our thought to lure people up here to have a drink and a snack. It quickly turned out that many of our guests actually came to eat here. No matter if they're tourists, locals, or staff.
"What's most important for us is the products' quality and the origin."
L.L./ Tapas are more than just olives, manchego cheese and chorizo – there are numerous varieties of the small delicacies. Where do you find your inspiration?
E.W./ Obviously I'm inspired by my husband and our travels. Our home base in Spain is usually Barcelona, from there we travel to the wine regions. Wherever there is cava, tapas are served, too.
And of course, drinks are just as important as food. My brother Elmar treats our guests to a great choice of Spanish wines. Our house wines are a great, zesty white from the José Pariente winery which is very popular with our guests. Aside from that we serve a Crianza from one of Spain's best Bodegas: Hermanos Sastre. And, of course, we have a wonderful, refreshing Cava de la Casa, by the glass or the bottle! And a cool glass of San Miguel always works, too.
L.L./ You mostly use Spanish products. What criteria apply when you choose your ingredients?
E.W./ We try out everything, of course. What's most important to us is quality and origin, though. Our products come from Spain, they are only available there and we import most of them directly. Felix has spent a lot of time finding the right importers.
"Even though sharing food is not a typically Austrian concept it has worked out really well from the start."
L.L./ In summer you also host a tapas festival. Could you give us some details on that?
E.W./ We let ourselves be inspired by Spanish tapas bars – they are usually very full, and a waiter walks around with a tray full of small plates. We copy this concept one a week. Guests pay a fixed price and then they get to try the different kinds of tapas – all the way to the desserts. Guests who'd like to sit outside, though, should definitely make a reservation beforehand.
L.L./ It's tradition to share tapas. What are the advantages of enjoying food together?
E.W./ Despite the fact that the principle of sharing food is not typical for Austria it's worked out great from the beginning. It's not only more communicative, guests also get to try out many different dishes.
"I love going hiking or taking the kids out to Körbersee lake."
L.L./ In the dining room and Angela Stube of your hotels you treat your hotel guests to gourmet menus that are typically Austrian in winter. In summer you serve tapas. How do these two culinary concepts go together?
E.W./ Seeing as the two seasons are separate the two concepts don't get in each other's way. What they have in common is that all our dishes are of the greatest quality. In summer guests prefer having something small and light and that makes tapas the perfect choice.
L.L./ Lech offers many leisure time options in summer. Let's imagine: the sun is out, and you have a whole day off. Where do you go?
E.W./ I love going hiking or taking the kids for a swim or out on a little boat on Körbersee lake; and the lakes in Zug valley are amazing, too. The perfect spots to recharge one's batteries!
"Our terrace has a proper Spanish feel to it."
L.L./ Unfortunately there is no sea outside the doors of Lech, but the sky is just as blue as it is in Spain. Are there places in Lech that sometimes remind you of Spain?
E.W./ Yes, our terrace on warm summer evenings. It really feels like Spain, with a gin tonic de la casa in hand; sunset included.
L.L./ Last but not least: could you give us an easy tapas recipe to try at home?
E.W./ Tortilla with pine nuts, raisins, and spinach. These are ingredients almost everyone has at home. Crack the eggs into a bowl with salt and pepper. Heat olive oil in a pan. First, add the pine nuts, then the raisins and after that the baby spinach. All this is then combined in the bowl with the eggs and then you make an omelette in the pan. It's a really simple dish, even I can make it!
Hotel Angela
6764 Lech am Arlberg
+43 5583 / 2407
contact@hotel-angela.at
www.hotel-angela.at

---
Share Article